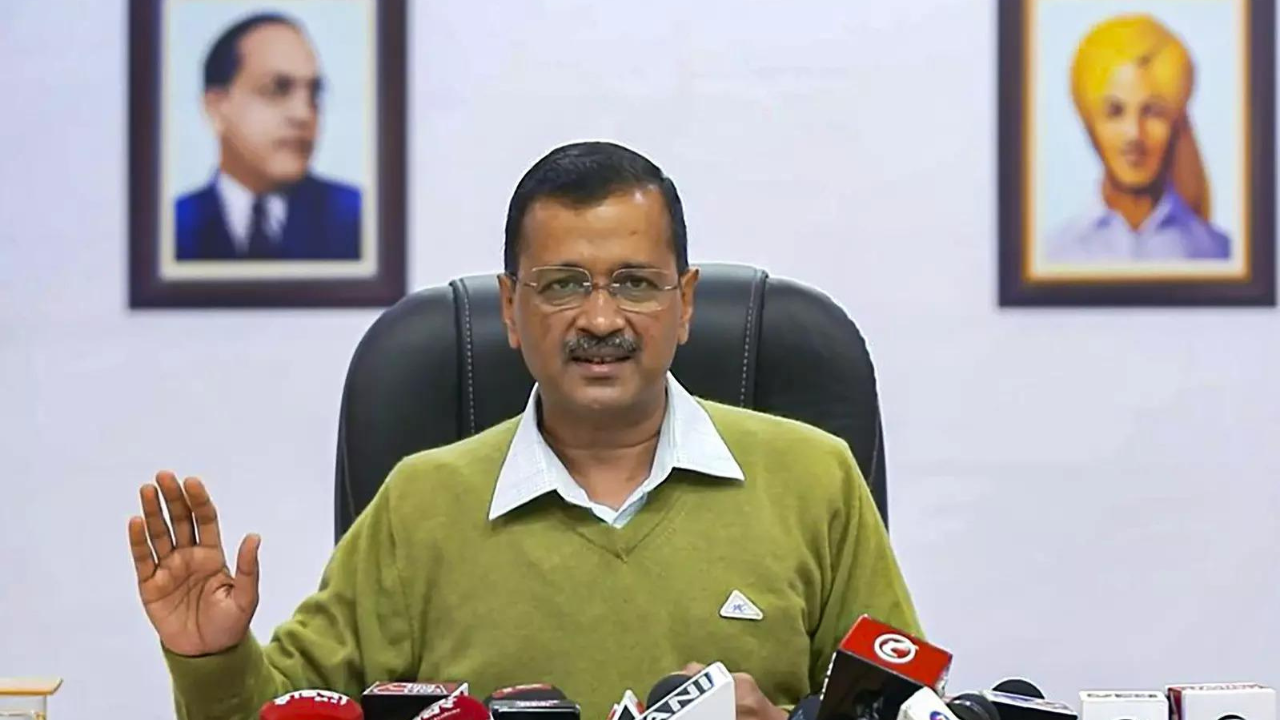 Aam Aadmi Party
chief
Arvind Kejriwal
, who is the CM of Delhi, and his party colleague Bhagwant Mann, CM of Punjab, seem to have sprung a surprise by attending an event hosted by
K Chandrasekhar Rao
in Telangana, despite maintaining a safe distance so far from the idea of a united non-BJP, non-Congress front taking shape ahead of 2024 general election.
The Aam Aadmi Party (AAP) on March 8, 2022, called Telangana CM K Chandrasekhar Rao "Chhota Modi" – comparing him with the Prime Minister who is a mutual political nemesis for both Rao and AAP's supremo Arvind Kejriwal.
On Wednesday, around 10 months after hitting out at Rao, Kejriwal participated in a convention in Telangana hosted by Rao,
Rao is one of the few prominent political leaders – other than West Bengal CM Mamata Banerjee, Tamil Nadu CM M K Stalin and Nationalist Congress Party chief Sharad Pawar – who has been spearheading efforts towards stitching together a united opposition front, evidently excluding the Congress, ahead of the 2024 Lok Sabha polls to fight the Bharatiya Janata Party (BJP).
This was the first major public meeting hosted by Rao after he changed his political party's name from Telangana Rashtra Samithi (TRS) to Bharat Rashtra Samithi (BRS) evidently aiming for a more pan-India appeal. It was also attended by Punjab CM Bhagwant Mann, who accompanied his mentor, Kejriwal, Kerala CM Pinarayi Vijayan, Samajwadi Party leader Akhilesh Yadav and D Raja of the
Communist Party of India
.
But Kejriwal's AAP had so far maintained a safe distance from the idea of an opposition bloc, even as it continues to aggressively invest on expanding its footprints across several states, including Telangana. So, his and Mann's participation in the event at Telangana's Khammam on Wednesday threw a surprise as much as the conspicuous absence of Banerjee, Stalin and Pawar.
A surprise
In an interview published on TOI Plus on January 17, AAP's national general secretary (organisation) Sandeep Pathak, a Rajya Sabha MP who has been in the forefront of the 10-year-old political party's national expansion plan, said that AAP does not believe in messy alliances and it plans to "go on its own".
Then what explains this surprise?
"As opposition state governments, we have similar grievances against the BJP-ruled Centre. It (Wednesday's event in Telangana) was a platform to express those grievances before the masses. That's all," said AAP's Delhi MLA Somnath Bharti, who is also the party's in charge for Telangana – a state which goes to assembly polls later this year.
Bharti's comments highlighted ongoing tussle between the AAP and the Centre over a range of issues that include a legal fight over control of services of bureaucrats in Delhi and several proposals rejected by lieutenant governor V K Saxena.
Lack of clarity
But Kejriwal's speech at Wednesday's event did not offer much clarity in terms of the party's larger strategy regarding Telangana as well as the possibilities of joining or not joining a united opposition front in the future.
The AAP chief said people across the nation were aspiring for change and that the 2024 general election was the right time to oust the BJP government from power at the Centre. He further said, people had elected the BJP to power for two consecutive terms with the hope that there would be some development, especially with regard to employment and welfare, but the saffron party failed them.
He urged people to elect a government that accords top priority to addressing issues such as price rise, unemployment, education and healthcare, adding that it was good that a few "like minded" chief ministers were joining hands to raise voice against the backwardness of the country and a new sense of hope seems to be emerging.
Confusion
Kejriwal's presence at the event and his speech rather seems to have given mixed signals to many in the political circles as well as junior leaders in the party – leaving a section of them wondering whether to see an opponent in Rao or an ally, two AAP functionaries, who did not want to be identified, told TOI Plus.
Days after the Punjab victory on March 10, 2022, the AAP issued a list of appointments in 10 states – signaling towards a clear expansion plan. The states included Gujarat and Himachal Pradesh, in which the AAP unsuccessfully contested polls in December 2022. But, their performance in Gujarat – five MLAs and 13% vote share – helped them become eligible for claiming the status of a 'national party'. Other states in the list include
Rajasthan
, Karnataka, Chhattisgarh and Telangana – all of them go to assembly polls later this year.
"We have started campaigning in Telangana. But now there is a little uncertainty over how to go about it. There is a lack of clarity over whether to see a friend or an enemy in KCR (Rao). So, we have been told to engage in only positive campaigning for now. It's a strategy under which we are supposed to only highlight good governance issues and stay away from attacking political opponents," said one of the two AAP functionaries quoted above.