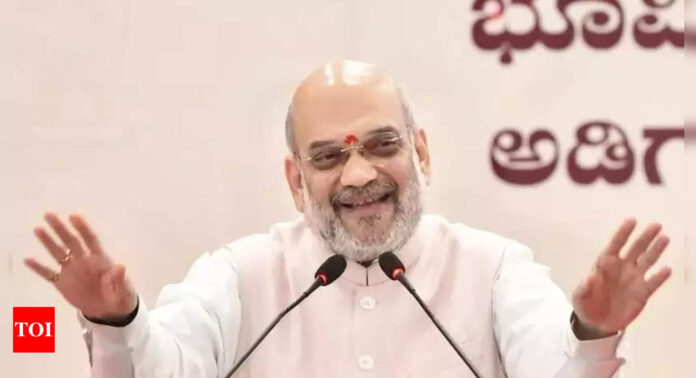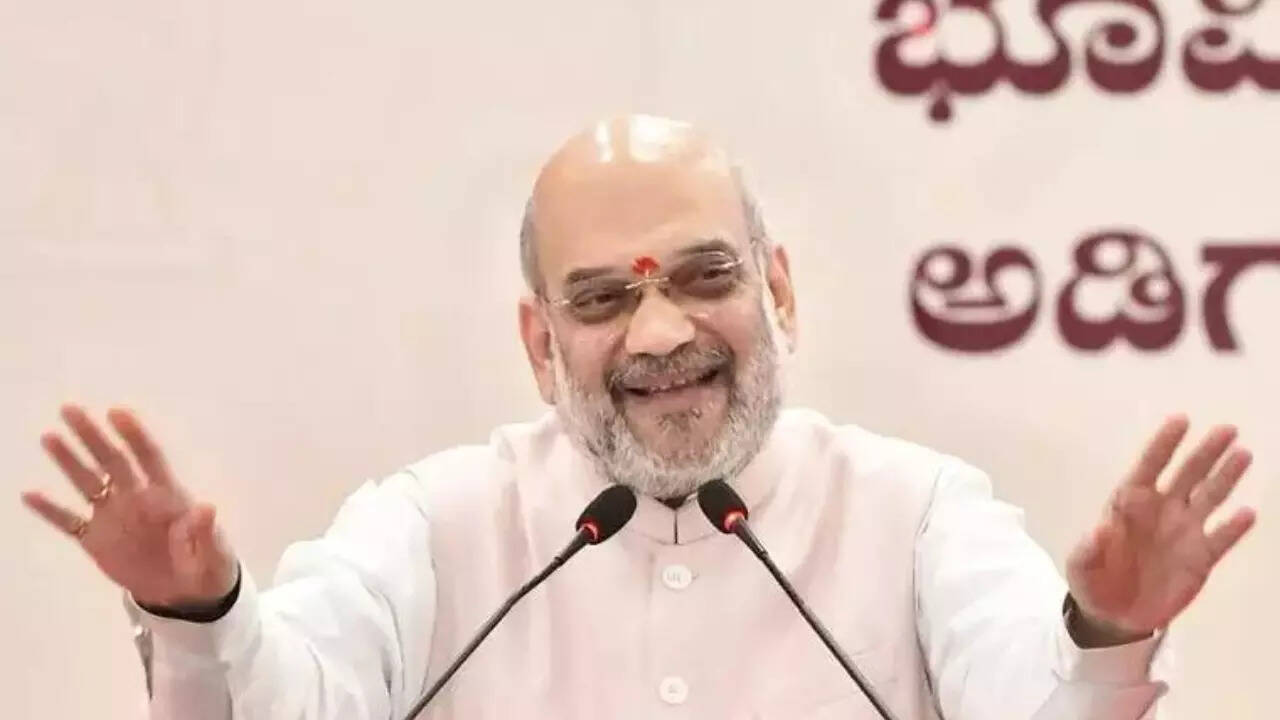 HUBBALLI: Urging people to vote for the
BJP
to form a government with absolute majority in
Karnataka
by placing trust in Prime Minister Narendra Modi, Union Home Minister
Amit Shah
on Saturday said every vote cast in favour of JD(S) would end up helping the Congress and making it win.
Hitting out at the Congress and the JD(S) by calling them "dynastic", he pitched BJP as the only party working for the people, and asked voters of Belagavi district, which has the second highest number of Assembly constituencies in the State after Bengaluru, to ensure the saffron party wins 16 out of 18 segments there.
"People of Karnataka have to decide in April-May, as to who they want to give the reins of Karnataka to for the next five years. On one side, there are two parivarwadi (dynastic) parties- Congress and JD(S), while on the other side there is BJP, a party of patriots, which under the leadership of Modi, is trying to take India number-one position in the world," Shah said.
Addressing BJP's 'Jana Sankalpa Yatre' rally here, he said JD(S) which by winning 25-30 seats plans to form a government by taking the support of Congress and impose one-family rule on the State, while the Congress which upon coming to power here has functioned as an ATM for its Delhi high command and pushed Karnataka into corruption.
"JD(S) and Congress may come across as two parties, but I want to tell people of Karnataka that every vote cast in favour of JD(S) will end up helping the Congress and making it win," he cautioned, adding that the BJP has worked for all sections of society and has made the nation the fifth largest economy in the world.
Karnataka Chief Minister Basavaraj Bommai, Union Minister Pralhad Joshi, senior BJP leader B S Yediyurappa and State president Nalin Kumar Kateel were among others present in the event.
Shah said Congress and JD(S) may be making various election promises, but only BJP can develop Karnataka and the country.
Listing out various pro- people and pro-poor programmes of the BJP government, he asked Congress and JD(S) as to what they have done for the poor.
Requesting people to vote for the BJP in the Assembly election, Shah said, "In the upcoming election, placing trust on Modi, make BJP form a government with absolute majority here and ensure Karnataka becomes number-one State in the country."
"We have to bring in BJP government in Karnataka. BJP aims to win 16 out of 18 seats in Belagavi district to form a government with absolute majority in the State," he added.
After Bengaluru Urban with 27 Assembly segments (28 including Anekal), Belagavi is the second biggest district in the State with 18 seats. In 2018, BJP won 13 seats in Belagavi, and emerged as the single largest party with 105 seats.
Further claiming credit for making Ram Nath Kovind, a Dalit, and Droupadi Murmu, a tribal community woman as the President of the country, the former BJP president said the party has worked for the welfare of Dalits and tribal communities.
He appreciated Bommai for installing a portrait of Savarkar, Hindutva ideologue, in the legislative Assembly hall at Belagavi.
Further, Shah complimented the Chief Minister for taking along the BJP government in Goa on the inter-State Mahadayi river water issue, and working for providing the parched areas of Karnataka with water.
He reminded former Congress president Sonia Gandhi about her speech in Goa in 2007, in which she had allegedly said that Mahadayi water cannot be diverted to Karnataka, as he also pointed out that in 2022 Congress manifesto, it was said the party would ensure that Karnataka doesn't get a drop of Mahadayi water.
"I want to tell you (people) that BJP, by resolving the long-standing dispute between both States, has given Mahadayi water to Karnataka and thereby ensured that farmers in several districts here are benefited," he added.
Accusing Congress of "nurturing Article 370, a mistake of Jawaharlal Nehru, like a child," for 70 years, the Home Minister said, "It should have gone from Jamau and Kashmir long ago… finally Modi of the BJP on August 5, 2019, by abrogating Article 370, joined Kashmir permanently with India."
Congress and JD(S) used to say a river of blood would flow in Kashmir if Article 370 was abrogated, he said, "Rahul baba (Rahul Gandhi), Siddaramaiah ji (Congress leader), leave river of blood, no one had the courage to even throw a stone. BJP has tried to ensure there is an end to terror activities."