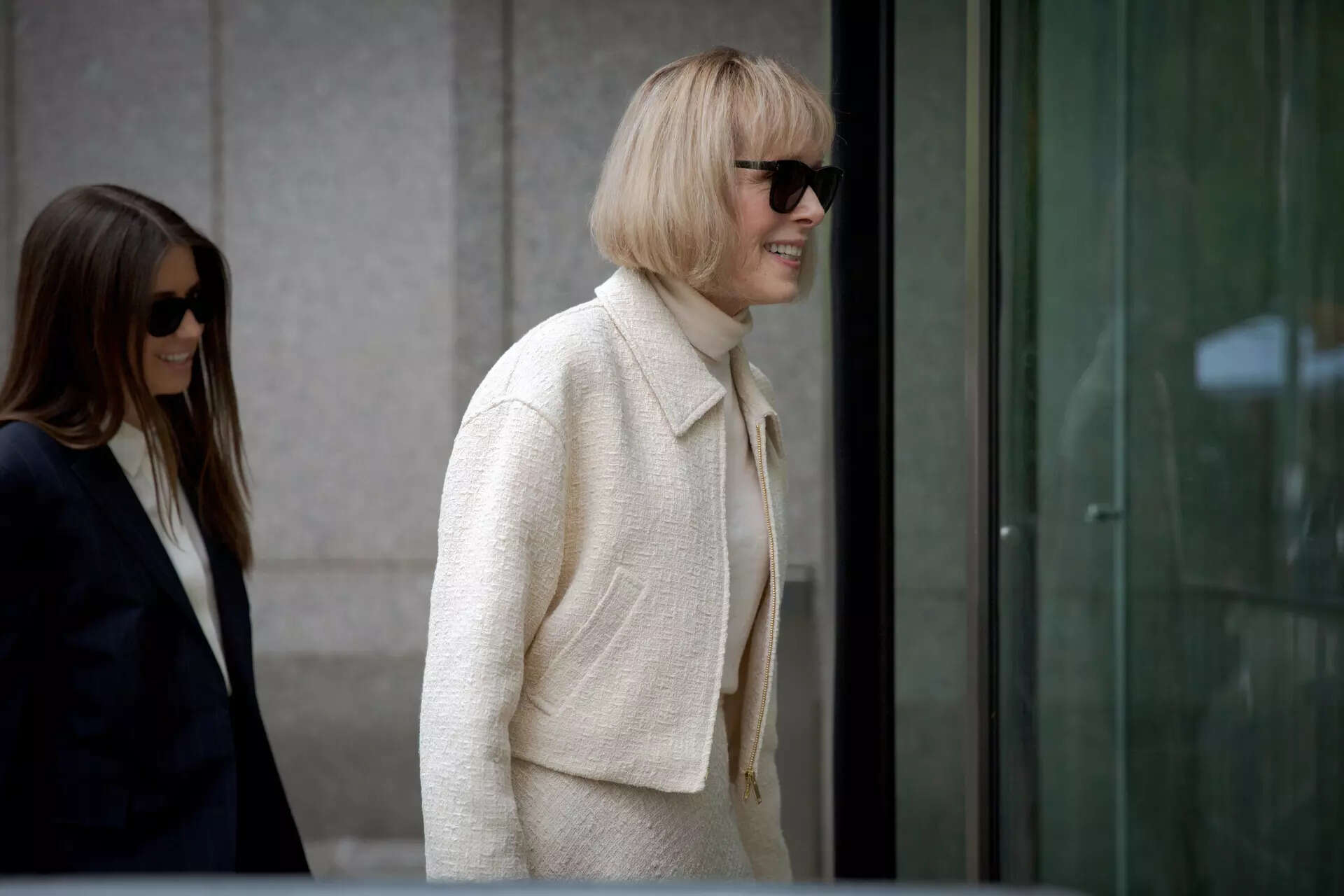 NEW YORK: E Jean Carroll, a writer accusing
Donald Trump
of raping her in the mid-1990s, pushed back during a cross-examination on Thursday, exclaiming: "He raped me whether I screamed or not."
Asked by Trump's lawyer why she did not scream during the alleged attack, Carroll said she was panicked and "not a screamer" by nature.
"People always ask, 'Why didn't you scream?' It keeps women silent," Carroll told the lawyer, Joe Tacopina, on the third day of a trial in her civil case against the former US president in Manhattan federal court.
She forcefully denied Tacopina's suggestion that she waited more than two decades to come forward about her encounter with Trump in a Bergdorf Goodman department store dressing room to sell more copies of her 2019 memoir.
Carroll, 79, said she felt compelled to go public after rape allegations against Hollywood producer Harvey Weinstein in 2017 prompted many other women to share their accounts of sexual abuse.
"It caused me to realize that staying silent does not work," Carroll said.
"Woman after woman stood up," Carroll said before her six-man, three-woman jury. "I thought, well, this may be a way to change the culture of sexual violence."
After dozens of questions from Tacopina about her failure to scream, Carroll lost patience and raised her voice. "I'm telling you: he raped me whether I screamed or not," she said.
Trump lawyer alleged money motive
Trump's legal team sought to undermine Carroll's credibility after she testified in graphic detail on Wednesday that Trump, now 76, raped her in the Bergdorf dressing room in late 1995 or early 1996.
Tacopina pressed Carroll on her inability to remember exactly when the encounter happened, and suggested she made up the story to generate publicity for the memoir, "What Do We Need Men For?"
"For two decades, Ms Carroll, you never told the police and never revealed the story in your hundreds of columns," Tacopina said.
Carroll acknowledged she did not immediately shower, see a doctor or call the police, and confided only in her friends Lisa Birnbach and Carol Martin.
She said feelings of shame or fear of retaliation often kept women from reporting rape. Carroll said she also feared Trump would use his wealth against her.
"One of my biggest fears absolutely came true," Carroll said. "He has two tables of lawyers here today."
Carroll had testified on Wednesday that Trump, who had been shopping at Bergdorf for lingerie for another woman, coaxed her into a dressing room, slammed her into a wall and raped her.
Trump has consistently denied Carroll's allegations and said she made them up to sell her memoir and hurt him politically, a theme Tacopina touched on.
The 76-year-old Trump leads the Republican field in the 2024 presidential campaign.
He has not attended the trial and is not required to be there. While Carroll testified, Trump was in Manchester, New Hampshire, at a campaign event.
'A chance to be heard'
Carroll, a registered Democrat, is seeking unspecified damages from Trump, saying his denials ruined her career and invited a flood of online harassment that persists.
She is suing Trump for battery under the Adult Survivors Act, a 2022 New York state law letting adults who claim they were sexually abused sue their alleged attackers even if statutes of limitations have run out.
Carroll is also suing for defamation over an October 2022 post by Trump on his Truth Social platform where he called the rape a hoax and scam, said Carroll was "not my type!" and accused Carroll of concocting a tale to sell her memoir.
On Thursday, prior to cross-examination, Carroll finished being questioned by her lawyer Michael Ferrara.
She maintained that suing Trump was a means of "getting my name back" after being subjected to a "wave of slime" from Trump supporters, and denied she did it for publicity or revenge.
"I like attention," she said. "I don't particularly like getting attention for suing Donald Trump. Getting attention for being raped is hard."
Tacopina is expected to continue cross-examining Carroll when the trial resumes on Monday. The trial is expected to last one to two weeks.
Birnbach, co-author of "The Official Preppy Handbook," and Martin, a former New York City news anchor, are expected to testify on Carroll's behalf.