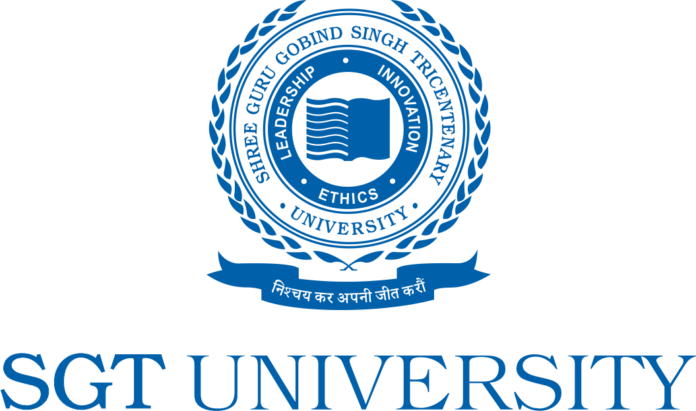 SGT University successfully organised the much-awaited intra-university event "Ek Bharat Shrestha Bharat" from the 11th to the 13th of April 2023. The event was a melting pot of diverse cultures, where students from different parts of the country showcased their state's unique traditions and customs. The event provided a platform for students to display their versatile talents and foster a sense of national unity and pride.

Students Showcase Cultural Heritage at SGT University's 'Ek Bharat Shresth Bharat'

The event was filled with exciting competitions, including dance, cooking, singing, monument making, and a fashion show, which saw enthusiastic participation from students. The competitions not only provided students with an opportunity to showcase their skills and talent but also to learn from one another's cultures, creating an inclusive environment.

Renowned dancer and choreographer, Kanika Singh graced the event as the chief guest. She applauded the students' efforts in organizing the event and encouraged them to continue preserving their cultural heritage.

Dr Vijay Sharma, Dean, Student Welfare, SGT University, expressed his delight at the success of the event, saying, "We believe that in order to preserve our rich cultural heritage, it is important to encourage the younger generation to appreciate and celebrate our diversity. The 'Ek Bharat Shrestha Bharat' event was organized with the same objective in mind. We are delighted to see the enthusiasm and active participation of our students in this event. It was a true representation of the spirit of unity in diversity that defines our great nation."

The event was a huge success, with students expressing their enthusiasm and appreciation for the opportunity to showcase their cultures and talents. Furthermore, the SGT University administration congratulated all the participants and winners of the event and expressed their gratitude towards the organizing committee and the chief guest for their valuable contribution to making the event a success. The university looks forward to organizing more such events in the future to promote cultural exchange and harmony among people.

About SGT University

One of India's leading educational institutions, SGT University, Gurugram, offers programmes across 18 faculties, featuring a wide range of undergraduate, postgraduate and PhD courses. It has a noble mission of providing opportunities for higher education to all sections of society, and a vision of bridging the existing skill gap and developing world-class industry professionals.

 

SGT University is a research and innovation powerhouse, and home to Asia's only National Reference Simulation Centre for Nursing & Medical Sciences, which was established in association with Jhpiego, Laerdal Medical India. The University also has a dedicated multi-speciality SGT Hospital with NABL & NABH accreditation. The Hospital serves the local communities around the University and also provides practical exposure to students of medical courses.

 

The University ensures that its focus is on the community, and prides itself on cultivating links between its researchers and local businesses in need of research partnerships. Moreover, SGT University is known for its innovation in medicine, dental sciences, environmental science, engineering, and data science. It has also received several awards for its work in higher education, including the Diamond rating from QS I-GAUGE. The University has excellent industry linkages which have resulted in the setting-up of modern laboratories in collaboration with reputed global organisations like Apple, IBM, SAP, Oracle, SMC India, UNESCO Bioethics, Laerdal-Jhpiego, and many more.

 

Over time, SGT University has carved out a reputation in the academic world by providing a steady stream of highly trained and industry-ready professionals. Additionally, the University has established several Centres of Excellence, laboratories, incubation cells and industry-academia associations in alliance with global leaders. These Centres of Excellence help SGT University to pursue academic excellence and cutting-edge research work.