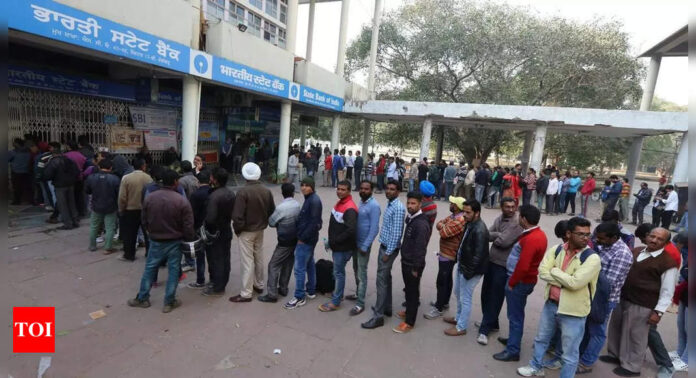 NEW DELHI: The father with money in the bank but none to pay vendors for his daughter's wedding, the retailer scrounging for funds to keep business going, the house help who didn't get a salary for two months. On Monday, these and many other similar tales of hardship became alive again, when the Supreme Court upheld the government's November 8, 2016 decision to demonetise Rs 1,000 and Rs 500 denomination notes.
The decision, touted by the government to be a 'surgical attack' on black money, missed its mark by a great margin and became the bane of the daily-wage labourers and poor Indians, a section which relies almost exclusively on cash.
To 38-year-old house help Parvesh, even the mere mention of the word 'notebandi' sends a shiver down her spine.
The single mother of a 20-year-old son said she was forced to work without a salary for almost two months and went empty stomach for days at a stretch.
"It was the worst time of my life. Worse than even Covid-19, because during the Covid there was at least some help from the government and society at large. But during demonetisation, we are left alone to suffer," said Parvesh.
"I mean how can I expect my employer to help me when he himself was struggling with money?" she said, having little to no idea about Monday's Supreme Court verdict.
The SC in its verdict said the decision-making process behind the 2016 demonetisation was "not flawed."
In a five-judge bench, four judges voted in favour of upholding the note-ban decision-making whereas one judge dissented.
The pain was not limited to the poor, and the middle class too struggled to understand the withdrawal rules that cascaded with everyday regularity in the wake of demonetisation. Nor was it any more inured to the agony of standing in the unending queues before the ATMs, which too often ran out of cash, and too early.
Many small-scale businesses are still reeling from demonetisation.
"Our business relies on cash and this makes it impossible for us to function properly and run our business. A limited time was given by the government to exchange the cash left with us, we were in continuous confusion about whether we should do business or stand in long queues for hours to get our cash exchanged," Manish Shah, a Surat-based retailer, recounted.
"The whole business cycle was disrupted in the entire country," he added.
For Jammu-based Rajendra Gupta, the cash crunch due to demonetisation had turned the once-in-a-lifetime occasion of his only daughter's wedding into a nightmare.
He recalled how he was made to beg for his own hard-earned money to pay the vendors so that preparations could go on without a hitch.
"I didn't have enough money to pay the vendors. There was a limitation on how much money you could withdraw from banks. And then the government's continuous flip-flop on rules and regulations and whatnot," he said.
An unprecedented rush at her workplace with hundreds scrambling to get inside was the last thing Taniya Sharma, then a trainee at a leading bank in New Delhi, thought she would witness in the initial days of her career.
"There were scuffles, sights of people crying, some even collapsing — I saw it all. Those scenes continue to haunt me till today," Sharma recalled. "The verdict does little to victims of those times."
According to reports, several people died in different parts of the country while standing in queues for money withdrawal and exchange of the scrapped notes.
In March 2017, months before the status quo would return, the Union government said it had "no official report" on how many people died in queues.
"No such official report has been received," Minister of State for Finance Arjun Ram Meghwal had then said in a written reply in the Lok Sabha.