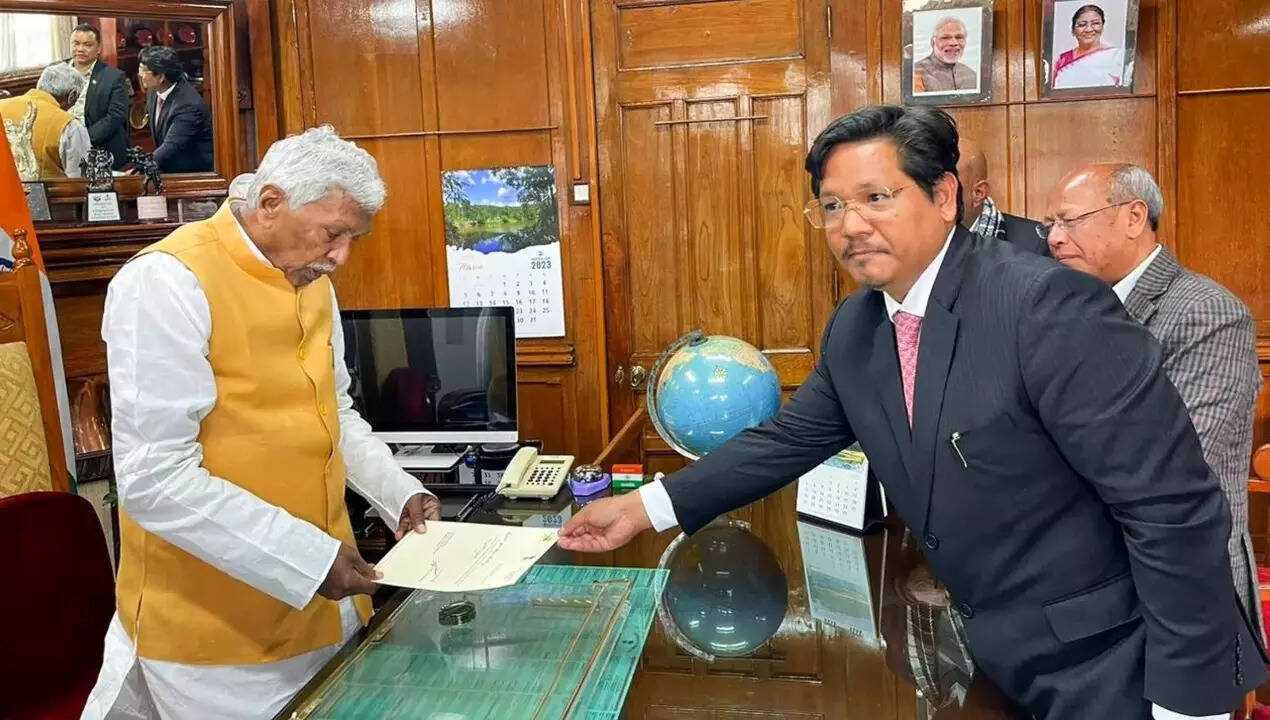 GUWAHATI: Conrad Sangma will take the oath of office on March 7 as Meghalaya CM for a second consecutive term, with governor Phagu Chauhan inviting him Saturday to form the next government that will be a 32-legislator coalition of three parties—NPP, BJP, and HSPDP—and independents in the 60-member assembly.
"The swearing-in will take place at the Raj Bhavan at 11am on the 7th and we are expecting the PM Modi, home minister (Amit Shah) and other leaders at the function. The whole cabinet will be sworn in," Sangma said.
The governor administered the oath to NPP legislator Timothy D Shira as protem speaker on whose watch the newly elected legislators will be sworn in Monday. Elections were held on February 27 and results declared on March 2 saw Sangma's National People's Party (NPP) winning 26 seats. Two MLAs each of BJP and Hill State People's Democratic Party (HSPDP), and as many independents, are supporting the coalition.
Sangma is confident that he will complete the new term as "smoothly" as the previous one. "We faced a number of challenges. But by ensuring good team work, giving space, motivation and a lot of stress on development helped us to survive and run the government for five years in spite of having a large number of political parties (it was a five-partyalliance government)," he said. He underscored the challenges of running a coalition government, which he said can be assuaged by giving space to "all our partners" and through dialogue.
But Sangma faced an immediate challenge Saturday as pressure groups met in Shillong and asked the two HSPDP legislators to withdraw support by Monday. HSPDP president had Friday withdrawn support, saying the party has not authorised its two MLAs — Methodius Dkhar and Shakliar Warjri — to back the NPP-led coalition.
Miscreants torched Dkhar's office in Shillong Friday. Sangma described the violence as unfortunate, saying he's saddened to see "this is kind behaviour which Meghlaya has never seen before".
On the two HSPDP legislators supporting him, he said, "The MLAs have been elected by the people of the constituencies and hence it is the mandate of the people. Therefore, the MLAs will decide who they want to support. That is the political party which sent a letter, but it is the legislature party which is the main signatory and both MLAs have submitted their letter of support to us. " The opposition has demanded a Khasi CM in place of Sangma. Sangma said people give the mandate in a democracy and there is a procedural system by which a government is formed and the CM is elected.