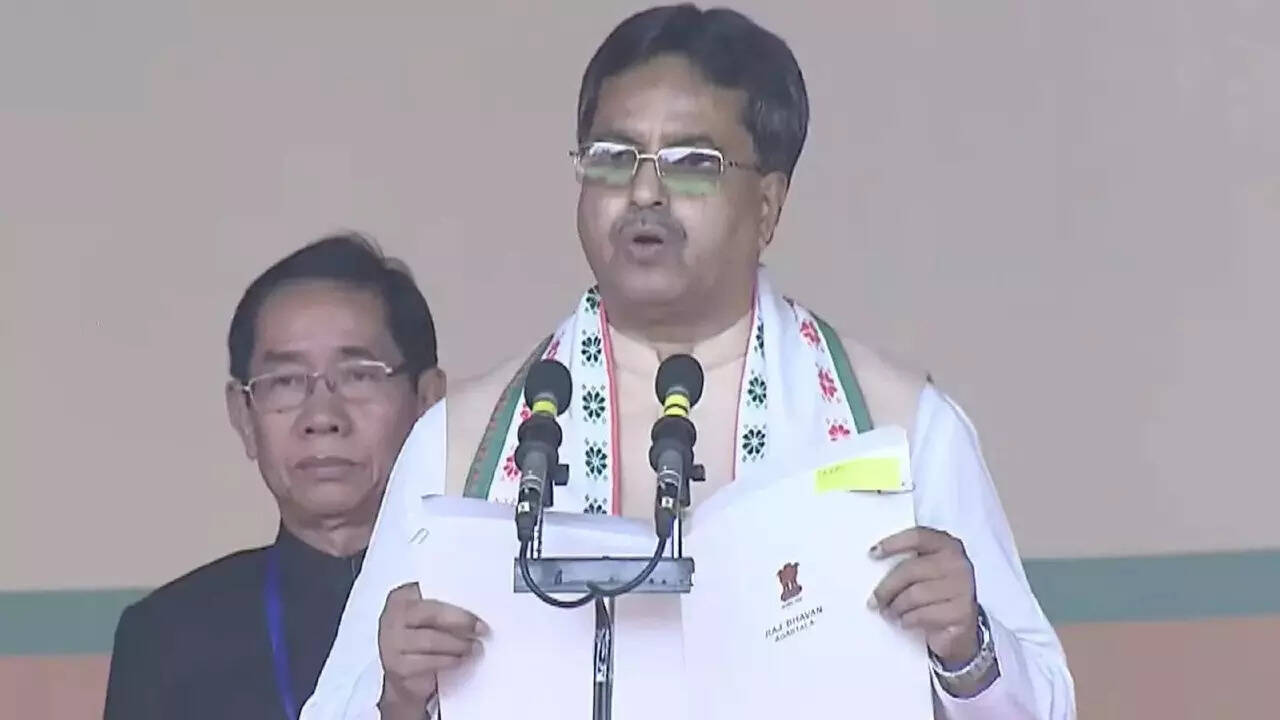 NEW DELHI:
Dr Manik Saha (69) took oath of office
as the chief minister of
Tripura
, leading the BJP-led government in the North-eastern state for the second time, on Wednesday in presence of Prime Minister Narendra Modi and Union home minister Amit Shah.
Saha took oath along with nine others, including a woman and four new faces, at a mammoth gathering at Vivekananda Stadium in Agartala, which also saw the attendance of
BJP
national president J P Nadda, chief ministers and several top leaders from the saffron party-ruled states.
Among those who were administered the oath of office and secrecy by governor Satyadev Narian Araya were senior leaders and ministers of the outgoing cabinet, Ratan Lal Nath, Pranajit Singha Roy, Santana Chakma and Sushanta Chowdhury. Four new faces inducted in the cabinet this time include three first-time MLAs, Tinku Roy and Bikas Debbarma of the BJP and Sukla Charan Noatia of ally Indigenous People's Front of Tripura (IPFT), besides second-time MLA Sudhangsu Das.
However, three cabinet berths have still been kept vacant anticipating that the second largest party TIPRA Motha would join the government, if not then these would be filled up in the next phase, the BJP sources said.
The sources had earlier said that the selection of Saha as the chief minister was unanimously endorsed by all the MLAs of the BJP which retained Tripura with a comfortable majority even when a strong fight was predicted amid speculations of anti-incumbency and a pre-poll alliance between archrivals Congress and the Left.
Saha had replaced Biplab Deb as the Tripura CM barely a few months ago. In the just-concluded assembly elections, he defeated Congress's veteran leader Ashish Kumar Saha, by a margin of 1,257 votes from Town Bardowali despite detractors within his own party predicting a "tough time" for him in the prestigious constituency. Overall, the BJP won 32 seats in the 60-member assembly while its ally IPFT won one seat.
Earlier, speculation was rife that Saha may make way for Union minister Pratima Bhowmik this time.
Saha, a dental surgeon-turned politician, had joined the saffron party in 2016 itself.
Tripura went to assembly elections in a single-phase polling on February 16 and counting of votes was held on March 2.
The BJP had captured the Left bastion in 2018.