MUMBAI: Reliance Capital's (RCap's) lenders will meet on Monday to conduct yet another auction round for the debt-ridden company in a bid to maximise their recovery. This follows a belated offer by IndusInd International Holdings (Hindujas), seeking to out-bid Torrent Investments, which was the highest bidder in the last challenger round of auction.
There is currently an interim stay from the National Company Law Tribunal (NCLT) on creditors processing the belated bid made by IndusInd. The NCLT had granted interim relief in a petition filed by Torrent Group. Creditors are also seeking from the NCLT an extension of the timeline for resolution of RCap's default from January 31 to February 15.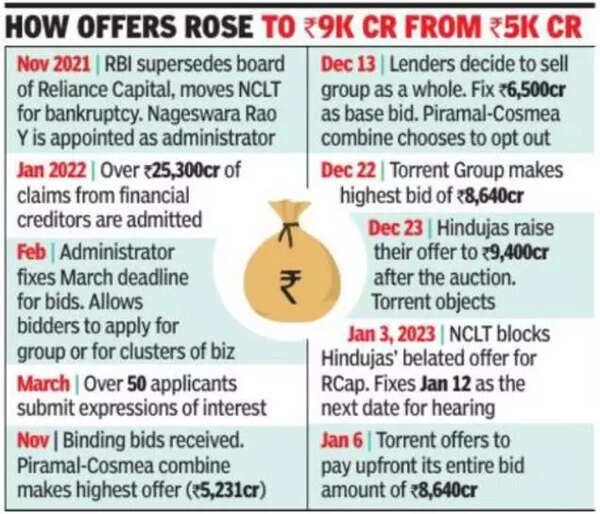 The committee of creditors (CoC) is likely to meet on January 9 to vote on the proposals. According to bankers, the reason for seeking a fresh round of offers is that bidders are continuing to make changes indicating that there is still scope for value maximisation.
The court has admitted claims of Rs 23,666 crore against which the liquidation value is believed to be around Rs 12,500 crore. Bids for the company have increased from Rs 5,231 crore offered by Piramal-Cosmea in the first round, to Rs 9,400 crore offered by the Hindujas after the auction process was over. LIC and provident funds are among the top investors in RCap bonds and among lenders, Yes Bank is the largest investor.
Lenders are keen to hold the new auction round with Hinduja's revised offer as the base price. The new auction will also be a challenger round meaning the previous highest bidder will have an option to match the highest bid.