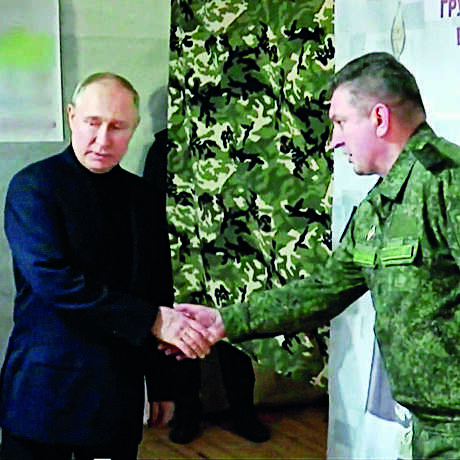 KYIV: Russian President
Vladimir Putin
visited command posts of his forces fighting in Ukraine for the second time in two months, officials said Tuesday, while Ukrainian President Volodymyr Zelensky made his latest trip to positions near the front line.
The visits – on different days and in different provinces – sought to stiffen the resolve of soldiers as the war approaches its 14th month and as Kyiv readies a possible counteroffensive with Western-supplied weapons.
Kremlin video broadcast by Russian state television showed Putin arriving by helicopter at the command post of Russian forces in southern Ukraine's Kherson province and then flying to the headquarters of the Russian Guard in Luhansk province, which is in the country's east. Kremlin spokesman
Dmitry Peskov
said the visits took place Monday. Dressed in a dark suit, Putin attended briefings with his military brass in both of his stops. The locations of the military headquarters weren't disclosed, making it impossible to assess how close they were to the front line. Nor was it possible to independently verify the authenticity of the video.
On Tuesday, Zelensky made his latest trip to visit units in Avdiivka, an eastern city in Donetsk where fierce battles are taking place. He heard first-hand reports about fighting and handed out awards. Zelensky's visits to areas feeling the brunt of Russia's full-scale invasion gathered pace last month as he shuttled across the country, often by train. As with Putin, the Ukrainian's wartime trips usually aren't publicized until after he's already left an area.
Putin's trips came as Ukraine is preparing a new counteroffensive to reclaim occupied territories. Last month, he visited the Russian-held port of Mariupol on the Sea of Azov. Ukrainian officials have said they're depleting Russian forces in eastern Ukraine while preparing for a counteroffensive. Zelenskyy has argued that if Russia seizes Bakhmut, it could allow Putin to begin building international support for a deal requiring Ukraine to make compromises to end the war.