NEW DELHI: Prime Minister Narendra Modi held a mega roadshow in Delhi on Monday before proceeding to chair the BJP's national executive meeting at the NDMC Convention Center.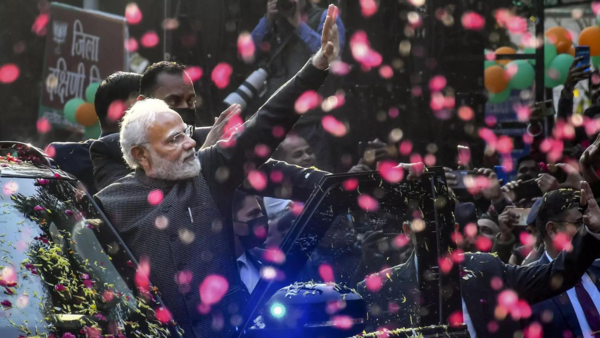 The roadshow started from Patel Chowk and continued till the convention centre. People and BJP workers thronged both sides of the roads to greet PM Modi and showered flower petals on his cavalcade.
Huge cutouts of the PM were placed along the road, besides several posters highlighting various initiatives of the government and also India's presidency of the G20. Stages had been erected at places. Folk artistes from several states performed on some of them, while others blared patriotic songs.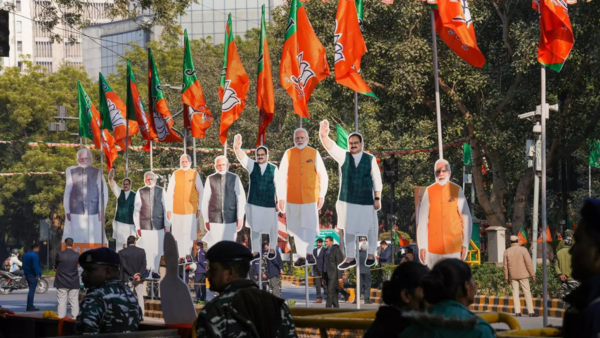 The PM also received a grand welcome from BJP workers at the NDMC Convention Centre after the roadshow. BJP president J P Nadda welcomed PM Modi at the venue of the party's meeting, which started upon the prime minister's arrival.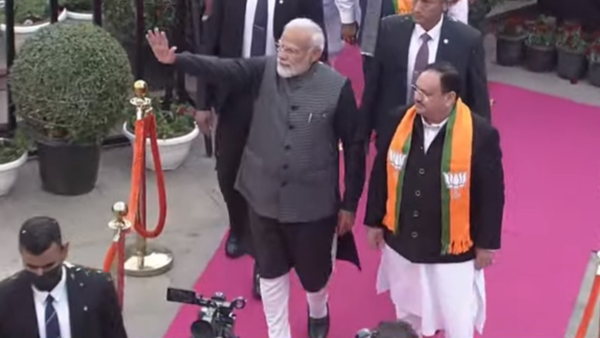 Poll strategy
The two-day national executive meeting of the BJP is being held to chalk out the strategy for the assembly elections in nine states this year and the Lok Sabha elections next year. Political, economic, and international proposals will also be discussed, informed party sources.
This meeting will also finalise the BJP's future course of action with an eye on the upcoming electoral battles, they added. Top leaders may also be entrusted with big responsibilities in the poll-bound states, sources further informed.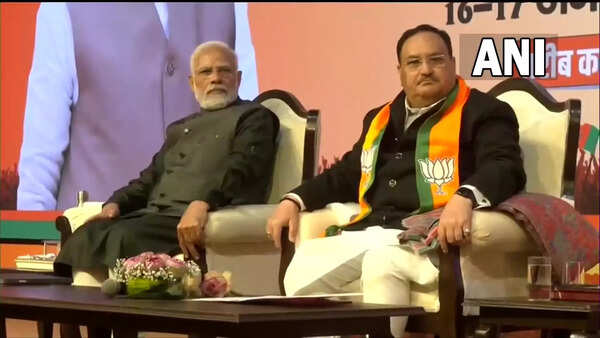 This is the first major meeting of the party after the landslide victory in Gujarat.
While the PM has frequently been holding roadshows, it is not very often that he does it ahead of the party executive, which has been organised several times in the national capital now.
BJP leaders noted that PM Modi had held a roadshow ahead of the party's national executive in Odisha, and added that the exercise proved to be helpful in galvanising cadre and supporters.
Meeting of national office bearers
Before the national executive, a meeting of the party's national office bearers, state unit presidents and various organisational secretaries was held at the BJP headquarters.
According to a top BJP source, a political proposal, congratulatory proposal, a proposal of thanksgiving on the welfare schemes for the poor, and a statement on the achievements of the central government will be the key takeaways of the national executive meeting.
A discussion was also held on a strategy to make PM Modi's upcoming 'Pariksha Pe Charcha' (an interactive event with board examinees) a success.
Also figuring in Monday's discussions was the 'Mann Ki Baat', a monthly radio address by Prime Minister Modi where he raises of public concern. The attendees at the meeting weighed on ways to ensure the 'Mann Ki Baat' programme reaches a wider audience and encourage public participation.
There was also a discussion on how to make the ongoing events around India's G20 Presidency across the country a success through maximum public participation.
"It was an eco-friendly meeting. The nameplates were made of jute, and Millet (khichdi) was served to the attendees," said BJP leader Sambit Patra
(With inputs from agencies)