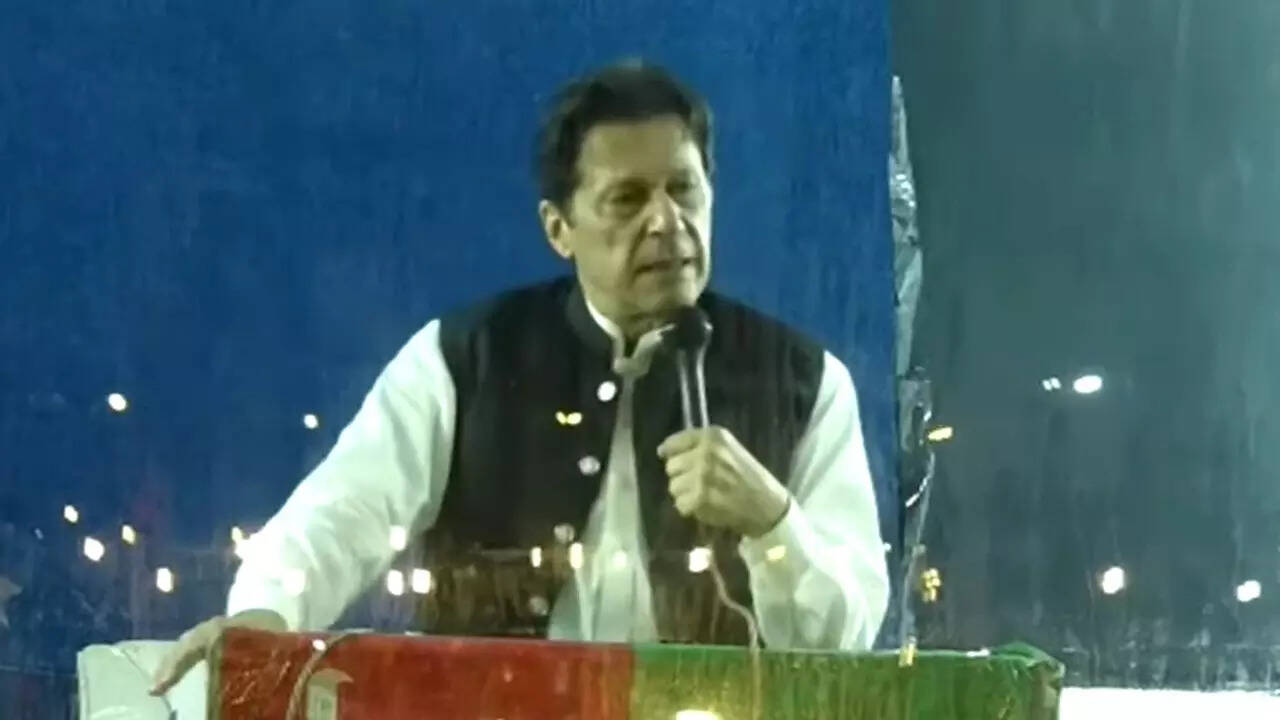 LAHORE: An anti-terrorism court in Pakistan on Thursday extended interim bail to
Imran Khan
till May 4 in three cases related to the clashes between his supporters and the police during an operation to arrest the former premier in the Toshakhana corruption case last month.
Lahore's Anti-terrorism court (ATC) granted one-time permission to Khan, the chairman of the Pakistan Tehreek-e-Insaf (PTI), to appear for the hearing via video link in the case.
Imran had filed petitions for bail in three FIRs registered with the Race Course police station under anti-terror laws.
Khan, 70, has been repeatedly claiming that his life is under threat because of which he was abstaining from attending court hearings.
ATC judge Ejaz Ahmad Bhutta asked Khan's lawyer Salman Safdar what he had done for which he was facing threats to his life.
To this, Safdar said those who were behind a gun attack on his client (in last November) could answer this.
"If Imran Khan is assassinated Pakistan will descend into chaos like what had happened after the murder of former premier Benazir Bhutto," he said.
"There are credible reports that Mr Khan can be targeted by snipers on his way to courts and these can be verified from the law enforcement agencies," he said.
In November last year, Khan survived an assassination attempt on his life.
After hearing arguments, the judge allowed Khan to mark his attendance in court through a video link and extended his pre-arrest bail till May 4, a court official said.
The Lahore police had booked Khan and hundreds of his party workers in three terrorism cases during clashes with police last month in an operation to arrest him in the Toshakhana case.
Khan has been in the crosshairs for buying gifts, including an expensive Graff wristwatch he had received as the premier at a discounted price from the state depository called Toshakhana, and selling them for profit.
He was disqualified by the Election Commission of Pakistan in October last year for not sharing details of the sales.
The election body later filed a complaint with the district court to punish him, under criminal laws, for selling the gifts he had received as prime minister of the country.
Khan has vehemently denied those charges.
The other case is related to the killing of a PTI worker in which Khan was booked for attempted murder.
Khan, the cricketer-turned-politician, is currently facing over 140 cases registered against him under treason, terrorism, murder, attempted murder, blasphemy, and other charges.
Khan was ousted from power in April last year after losing a no-confidence vote, which he alleged was part of a US-led conspiracy targeting him because of his independent foreign policy decisions on Russia, China, and Afghanistan.
Since his ouster, he has been demanding early elections to remove what he termed an "imported government" led by prime minister Shehbaz Sharif.
Sharif has maintained that elections will be held later this year once parliament completes its five-year tenure.