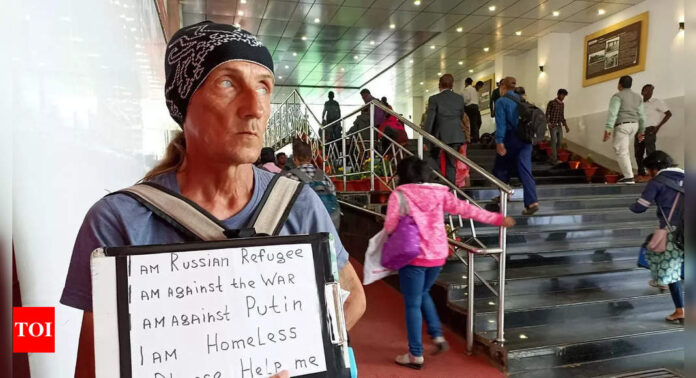 BHUBANESWAR: Police on Saturday traced the Russian national who was missing after staging a protest at Bhubaneswar railway station on Thursday against the Russia-Ukraine war. He was identified as Glagolev Andrew (58), a resident of Moscow.
Police went into a tizzy on Friday after he disappeared from Bhubaneswar following his protest days after the deaths of two Russians, including a legislator who was a Putin critic, in Odisha's Rayagada. Andrew's placard read, "I am a Russian refugee. I am against war and against Putin. I'm homeless. Please help me."
A critic of Russian President
Vladimir Putin
, Andrew has been staying in India since 2016. He has a valid passport. After his tourist visa expired, he applied for renewal and has been living in Puri for last three months. He has applied for asylum in India through UN and it's under consideration. He has shown documents to police regarding his visa, passport and asylum request. Police are verifying his documents and his motives.
Burnt remnants seized
Five days after the Odisha cime branch took over the probe into deaths of Putin's critic Pavel Antov and his friend Vladimir Bydanov, a senior CID-CB officer said so far it has not found anything suspicious in the deaths even as the probe team on Saturday seized the burnt remnants of the two from the cremation ground in Rayagada for forensic examination.