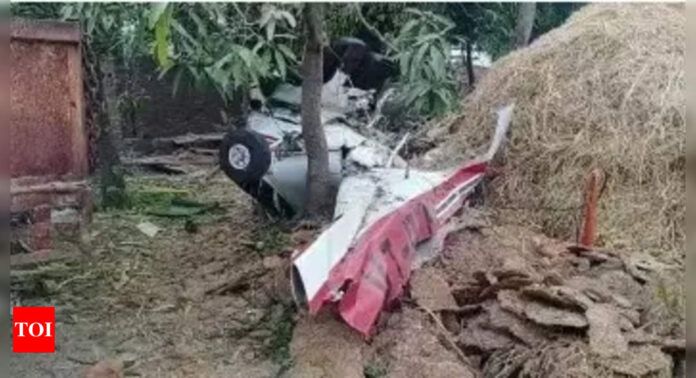 BHOPAL: A trainer aircraft was crashed after hitting the dome of a temple, killing its pilot in Madhya Pradesh's Rewa district late on Thursday night. A trainee pilot who was also in the aircraft sustained severe injuries and was admitted at Sanjay Gandhi Hospital in Rewa.
Madhya Pradesh
home minister Narottam Mishra has also ordered a probe into the incident.
The incident took place at Umri village of the district. "It was within 1 kilometre of the radius of the Churhata air strip — base from which the aircraft took off — that the accident took place. Between 11.30 pm and 11.45 pm, it crashed killing trainer pilot Captain Vimal Kumar (50) on spot and injuring the trainee, Sonu Yadav (22)," Rewa superintendent of police Navneet Bhasin told TOI.
The deceased has been identified as a resident of Patna in Bihar and injured resident of Jaipur in Rajasthan.
Police said that it was a two-seater aircraft and belonged to Falcon Training Academy, started in Churhata of Rewa in March 2020.
District collector Manoj Pushp and district SP Navneet Bhasin rushed to the spot after getting the information.
Sources said fog is cited to be the primary reason for the accident. Due to low visibility, the aircraft first came touched electric wires and crashed after colliding with the dome of a temple.