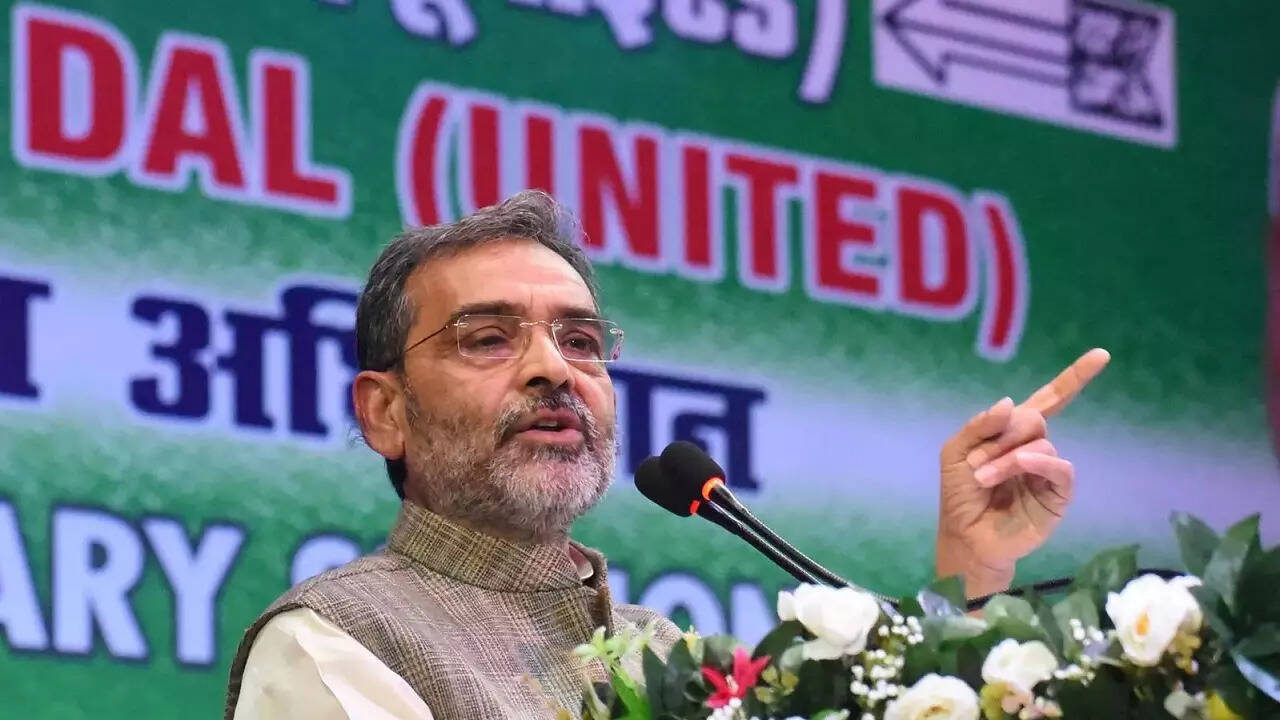 PATNA: The rift between JD(U) leader Nitish Kumar and the party's national parliamentary board chairman, Upendra Kushwaha, widened on Friday after he asked the party supremo to convene a meeting of the national executive on an alleged "deal" struck with ally RJD at the time the grand alliance government was formed in August last year.
Kushwaha said the national executive should also discuss whether or not JD(U) has been weakened in recent times. "Around a week ago I asked the party leadership to convene a meeting of the national executive. We have some serious issues to discuss. The party has become weak," Kushwaha said on Friday.
Reacting to Nitish's repeated refrain that Kushwaha was "free to go wherever he wants, as early as possible", the JD(U) parliamentary board chairman said, "I have been with this organisation since its previous avatar, the Samata Party. I will not leave JD(U) just because I am being told to do so by Nitish Kumar." Earlier, on Wednesday, Kushwaha said he would not leave JD(U) without taking his share of the "properties of his baap-dada (ancestors)".
"The CM has been telling that I have quit the party thrice and come back on my own wish. I must clarify the facts. I have left JD(U) and returned only twice. My first return was in 2009, when Nitish requested me at a public function to come back. My return in 2021, again, followed requests by the CM who had become very vulnerable after his party's MLA tally fell to 43," said Kushwaha.
The former Union minister pointed out that as he was being derided by the CM as someone who has "come and gone" out of JD(U) many times, "currently the party is full of turncoats, including the national president (Rajiv Ranjan, alias Lalan Singh). Why is the CM not talking about other turncoats in JD(U)?"
Kushwaha said that in the last two years, since he merged his erstwhile RLSP into JD(U), the Bihar CM never made a phone call to him or invited him even for five minutes to discuss party matters.
Nitish, on the other hand, said Kushwaha knew that JD(U) had won only 43 seats in the 2020 assembly polls. "If things appeared so bleak to him, he should not have returned to JD(U). He should remember that his return to the party fructified at my insistence, otherwise many leaders were not in favour of taking him back," he said.
JD(U) insiders said Kushwaha had returned to the party in 2021 with the great hope that he would become Nitish's "heir apparent" when the latter would quit as CM. But Kushwaha's dream was shattered a few months ago when Nitish publicly announced that RJD leader Tejashwi Prasad Yadav would lead the Mahagathbandhan in the 2015 assembly polls in Bihar.