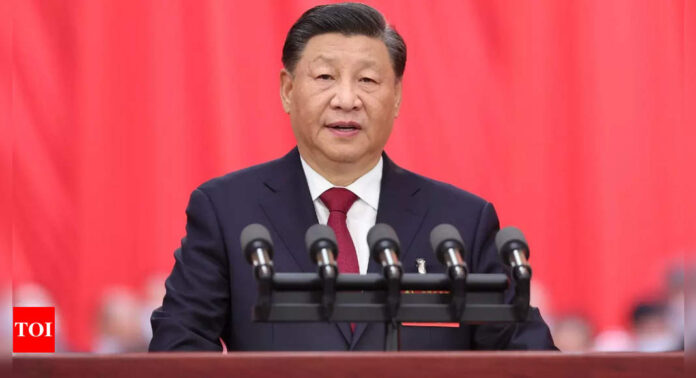 NEW DELHI: In a rare, direct aim at America, Chinese President
Xi Jinping
criticized the United States
's attempts to suppress and contain China during his speech to delegates at an annual congress in Beijing.
China's rubber-stamp parliament, the
National People's Congress
(NPC), began its annual session on Sunday and is expected to unveil the biggest government reshuffle in a decade after setting a modest target for annual economic growth.
"Western countries led by the United States have implemented all-round containment, encirclement and suppression of China, which has brought unprecedented severe challenges to our country's development," Xi said during his address, news agency Xinhua reported late Monday.
Xi, 69, who is preparing for a third consecutive presidential term, warned that China has faced significant hurdles over the past five years that could hinder its economic growth. He called for the courage to confront profound and complex changes in both domestic and international environments.
Speaking at a panel discussion on the sidelines of the annual parliamentary session, Xi said that the external environment for the country's development had changed rapidly, and there was a significant rise in uncertainty and unpredictable factors.
He said in the future "the risks and challenges we face will only increase and become more severe". 'China can't have it both ways when it comes to …':Blinken's new warning to Beijing
"In the face of profound and complex changes in the international and domestic environment, we must remain calm, maintain concentration, strive for progress while maintaining stability, take action, be united and dare to struggle," Xi said.
'Invisible hand'?
China's new foreign minister warned that soaring US-China tensions risk blowing past any guardrails in the relationship, showing that divisions between the world's biggest economies are becoming more entrenched.
"The US claims that it seeks to outcompete China but does not seek conflict," foreign minister Qin Gang said Tuesday at his first news briefing since taking office late last year. "Yet in reality, its so-called competition aims to contain and suppress China in all respects and get the two countries locked in a zero-sum game."
"The United States' perception and views of China are seriously distorted," Qin said. "It regards China as its primary rival and the most consequential geopolitical challenge. This is like the first button in the shirt being put wrong."
Qin said that an "invisible hand" was responsible for the escalation of the war in Ukraine, but did not specify who he was referring to. According to Qin, this "invisible hand" is using the crisis in Ukraine to serve certain geopolitical agendas. Despite this, China continues to call for dialogue and has defended its stance on Ukraine against Western criticism.
Since Russia invaded Ukraine last February, Xi has held talks with Putin several times but has yet to speak with his Ukrainian counterpart. This fact undermines China's claims of neutrality, according to Kyiv's top diplomat in Beijing.
Beijing has vehemently denied accusations from Washington that it has been considering providing lethal weapons to Russia. However, Qin emphasized the importance of advancing China's relations with Russia in the face of an increasingly turbulent world.
China-Russia relations
Qin also highlighted the close interactions between President Xi Jinping and President Vladimir Putin as the anchor for China-Russia relations. When asked if Xi would visit Russia after China's parliament session, Qin did not give a definite answer.
Regarding the possibility of China and Russia abandoning the US dollar and euro for bilateral trade, Qin stated that countries should use whatever currency is efficient, safe, and credible. He added that currencies should not be used as a trump card for unilateral sanctions or as a disguise for bullying or coercion.
The US and China have been at odds over trade, human rights, and other issues. Last month, tensions rose even further when the US claimed to have shot down a Chinese balloon used for surveillance, a claim denied by Beijing. American officials have also cautioned that China may invade Taiwan in the coming years due to its assertive military actions near the self-ruled island, which Beijing considers its own territory. The balloon incident caused US secretary of state Antony Blinken to delay a diplomatic trip to Beijing focused on various controversial topics.
(With inputs from agencies)