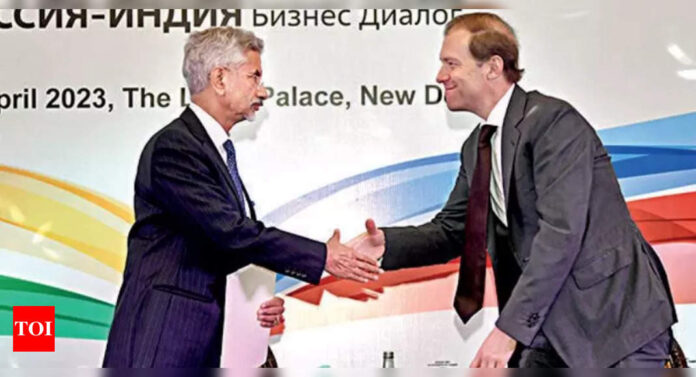 NEW DELHI: India and
Russia
are in 'advanced negotiations" for a new bilateral investment treaty (BIT) that is necessary to boost the confidence of investors, foreign minister S Jaishankar said on Monday as he described India's relationship with Russia as among the "steadiest" of major relationships of the world.
While the negotiations for a Free Trade Agreement (FTA) between India and the Eurasian Economic Union had been interrupted by the pandemic, Jaishankar said he would work towards progress in the talks as it would make real difference to the trade relationship. With annual bilateral trade having shot up to $45 billion this year, he also called for addressing the growing trade imbalance. He made the remarks while addressing a business event that was also attended by Russian deputy PM and trade minister Denis Manturov. 01:53
Looking forward to discuss FTA with India: Russian Dy PM Denis Manturov in Delhi
"We need to work together with our Russian friends on a very urgent basis on how to address that imbalance. And addressing that imbalance really means addressing the impediments — whether they are market access impediments, whether they are non-tariff barriers, whether they are related to payments or to logistics," Jaishankar said.
Manturov is in India to chair, along with Jaishankar, the Russia-India intergovernmental commission on trade, culture, science and technology. Ahead of the meeting, he also met NSA Ajit Doval. People familiar with the meeting between Doval and Manturov said both sides discussed a range of bilateral issues to implement the India-Russia strategic partnership.
Talking about economic cooperation in a strategic context, Jaishankar said the partnership with India was a subject of attention not because it had changed, but because it had not. 02:45
"India-Russia committed to multipolar world" EAM Jaishankar at India-Russia Business Dialogue
"Indeed, it has been among the steadiest of the major relationships of the world in the contemporary era. But that by itself is not enough. We share a commitment to a multi-polar world. And that also means a multi-polar Asia. Russia is today looking much more towards Asia, a reassessment from its traditional focus," he said. For India, this could mean a broadening of our engagement that was overly reliant on the triad of military, nuclear and space cooperation," he said.
Speaking about trade imbalance, Jaishankar said it was important to be honest about the short- and medium-term challenges in business.
"I would say that really what the future of our economic cooperation requires is the willingness and ability to look at it from the point of view of the other partner and then come up with solutions which will overcome the obstacles," he said.
He said payments, logistics and certification were some of the key areas and it was possible to find solutions to them and that both sides found ways in the fertiliser trade last year in a much more mutually acceptable way.