NEW DELHI: Defence minister Rajnath Singh on Tuesday inaugurated the Siyom bridge in Arunachal Pradesh, along with 27 other infrastructure projects completed by the Border Roads Organisation.
Built at a cost of Rs 724 crore, these will hugely augment India's border infrastructure, mostly along the Chinese border, from Ladakh to Arunachal.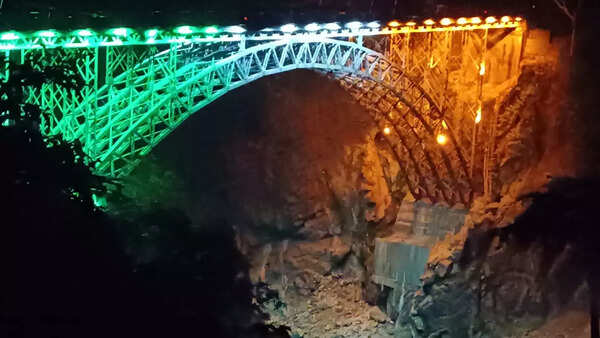 Speaking at the event, the defence minister "PM Modi's government is working on developing better & smooth commuting facilities for the people in the country, especially in the North-East areas. These roads are significant from the strategic point of view too."
The Siyom bridge on the Along-Yinkiong Road- a 100-meter 'Class-70' steel arch superstructure- will facilitate faster induction of troops, heavy equipment like howitzers and mechanised vehicles to forward areas of the Upper Siang district, Tuting and Yinkiong regions along the LAC (Line of Actual Control) with China.
1/6
Rajnath inaugurates crucial bridge to LAC in Arunachal, 27 other border projects
His visit to the state comes less than a month after Indian forces thwarted an attempt by Chinese soldiers to set up an observation post, some distance inside Indian territory close to the LAC, near Tawang.
"India has always been against war. India has neither started a war against any country nor captured an inch of land from any country but this should not be taken for granted," he said.
21 other bridges, three roads and three additional infrastructure projects in Arunachal Pradesh, J&K, Ladakh, Uttarakhand, Sikkim, Punjab and Rajasthan, were virtually inaugurated by Singh from the Siyom bridge site.
In recent years India has been able to shrink the differential with China in terms of border infrastructure along the 3,488-km LAC by building several roads, tunnels, bridges, troop habitats, permanent defences, helipads and airfields.
The flare up between Indian and Chinese troops in Ladakh's Galwan Valley in June 2020 provided further spur to infra projects on the anvil along the Chinese border.
Watch Rajnath Singh inaugurates Siyom bridge in Arunachal Pradesh