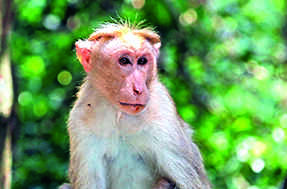 COLOMBO: The head of Sri Lanka's environmental conservation body has warned that the first batch of 1,00,000 endangered monkeys from the cash-strapped nation could be heading to test labs in China, media reported on Monday.
Sri Lanka is planning to export 1,00,000 toque macaques to China, one of its largest bilateral lenders, agriculture minister Mahinda Amaraweera said last week.
The toque macaque is endemic to Sri Lanka and classified as endangered on the International Union for Conservation of Nature red list. Understandably, the move has alarmed environmentalists. Centre for Environmental Justice (CEJ) executive director Hemantha Withanage warned that the first batch of 1 lakh monkeys could be heading for test labs in China, Daily Mirror Lanka reported.
Withanage said the monkeys could be used for testing cosmetic products and medical experiments.
President Ranil Wickremesinghe's United National Party general secretary Palitha Range Bandara said even peacocks should be exported. "Those who oppose the export of monkeys should go to Wanathawilluwa, Anamaduwa and Anuradhapura to see the damage caused by these monkeys and peacocks and witness the losses suffered by the farming community," Mirror quoted him as saying.