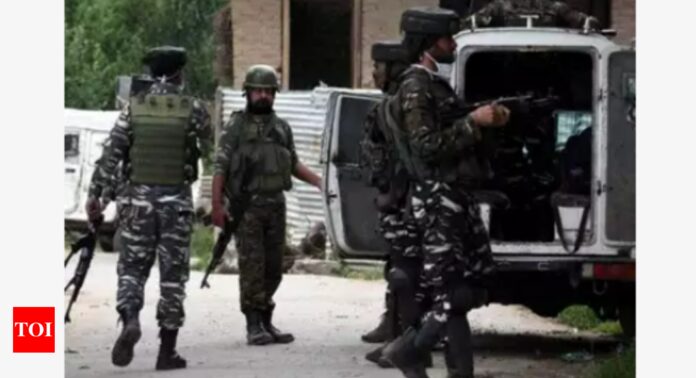 NEW DELHI: An Army court martial in
Jammu and Kashmir
has recommended life imprisonment for a Captain in connection with the killing of three men in a staged encounter at a remote hilly village at Amshipura in Shopian district of south Kashmir in July 2020.
The court martial verdict against Captain Bhoopendra Singh has not yet been confirmed by "higher competent authorities", the Udhampur-based Northern Command and the Army HQ in New Delhi, in accordance with the military law.
Court martial judgments in such cases, however, are "usually approved" by the higher authorities.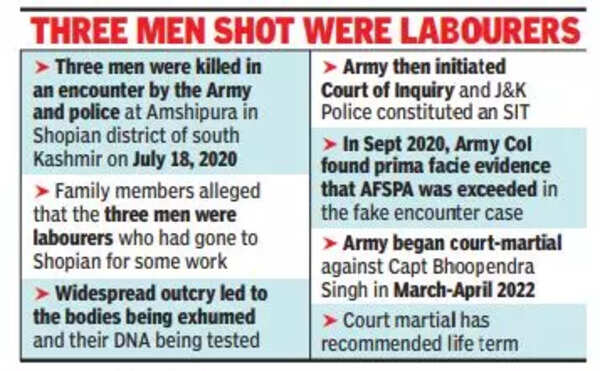 Troops exceeded Afspa powers, CoI had found
An Army court martial in J&K has recommended life imprisonment for a Captain in a staged encounter in J&K. Court martial judgments in such cases, however, are "usually approved" by the higher authorities, with the Army making it clear that "fake encounters" and violation of standard operating procedures during counter-insurgency operations will not be tolerated in both J&K and northeast, a senior officer said Sunday.
The court martial against Captain Singh was initiated in March-April last year after a Court of Inquiry (CoI) and then the subsequent Summary of Evidence (SoE) found that soldiers "exceeded" powers vested under Armed Forces (Special Powers) Act (Afspa) during the incident.
The families of the three slain men – Imtiaz Ahmed, Abrar Ahmed and Mohammed Ibrar- had claimed that the victims were labourers and not terrorists. They had gone to Shopian on some work when they were killed in a "fake encounter" on July 18, 2020, they said.
After widespread outcry, the Army had ordered the CoI to probe the matter. The bodies of the three men were also exhumed and later laid to rest in their ancestral graveyards at Rajouri after DNA-testing. The J&K Police had also constituted a special investigation team to probe the incident.
The court martial proceedings were subsequently initiated against Captain Singh for violating powers vested under Afspa and for not following the 'Dos and Don'ts' of Army as approved by Supreme Court.
The police chargesheet against Captain Singh had said that he provided wrong information to his superiors in the Army as well as the police about the "recoveries" made from the three victims who were dubbed as "terrorists". The police also named two civilians in its chargesheet.By staging the encounter, the three accused "purposefully destroyed evidence of the real crime that they have committed and also purposefully projected false information as part of a criminal conspiracy hatched between them with the motive to grab" cash rewards, the chargesheet said.