NEW DELHI: The CBI has filed an FIR against former Union
finance
secretary Arvind Mayaram and conducted searches at his residence for allegedly providing undue favours to
De La Rue
International, a UK-based firm engaged in supply of exclusive colour shift security thread for Indian bank notes. This marks a crucial turn in the investigation launched in 2017.
It is alleged Mayaram granted extension to De La Rue despite knowing that it had mad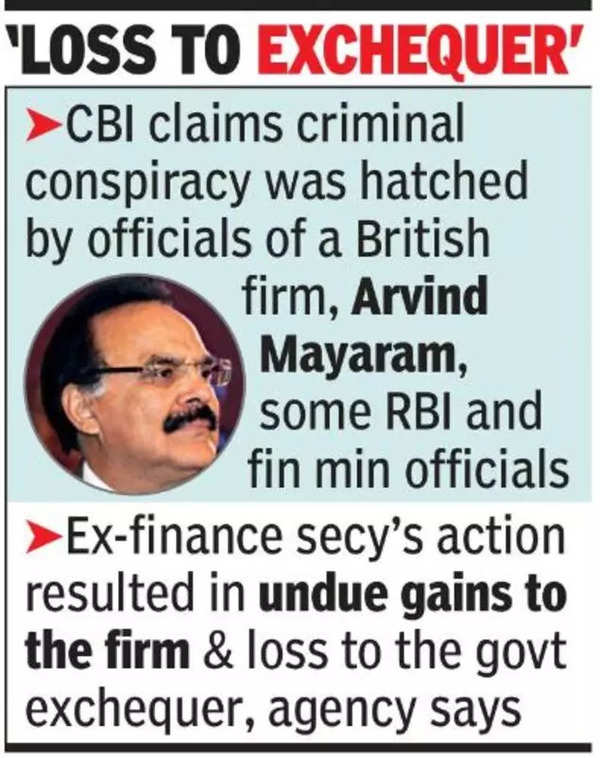 e a false claim about having an exclusive security thread, and without the approval of the finance minister in deviation of past precedents. The probe agency has alleged his action resulted in undue gains to it and loss to the government exchequer.
In its FIR, CBI has claimed that its investigation had prima facie revealed that a criminal conspiracy was hatched amongst officials of De La Rue, Mayaram and some officials of RBI and the finance ministry because of which undue favours were granted to De La Rue. Mayaram could not be reached for comment.
He was moved from the finance ministry after the NDA government swept to power in 2014. After retirement, he joined as economic adviser to Rajasthan chief minister Ashok Gehlot and has emerged as a strong advocate of the old pension scheme. He had served in the economic affairs department of the finance ministry as joint secretary and took over as secretary in 2012.
Searches were conducted in Delhi and Jaipur in connection with the case on Thursday.
CBI's inquiry has also revealed that one Anil Raghbeer, the signatory of the contract agreement from De La Rue has received Rs 8.2 crore from offshore entities apart from the remuneration paid by De La Rue in 2011. CBI will send him a notice asking to join investigation, a source said.
According to the FIR, the department of economic affairs at ministry of finance had filed a complaint in the matter on February 14, 2017 after which a preliminary inquiry was initiated by anti corruption (AC-III) unit at CBI.
It came to fore that the government had entered into an agreement with M/s De La Rue International Ltd, UK for supply of exclusive colour shift security thread for Indian currency notes in 2004 for a period of five years. The contract was subsequently extended four times till December 31, 2015.
As per the enquiry, the then finance minister had authorised the RBI in July 2004 to enter into "Exclusivity Agreement" with the suppliers of exclusive security feature.
Thereafter, a sub-committee headed by P K Biswas, executive director, RBI was constituted to go through all aspects of exclusivity of three security features firmed up for Indian Banknote Papers and also to go into the details of prices, says the FIR adding that the the Exclusivity Agreement was signed by RBI with De La Rue on September 4, 2004.
"It was stated in para 2 of the Preamble at Page 2 of the agreement that De La Rue had developed an exclusive "India Specific Green to Blue colour shift clear text MRT machine readable security thread" for use in Indian banknote paper and De La Rue holds its exclusive manufacturing rights. But enquiry revealed that De La Rue had made false claims of holding patent and they did not have any patent for their colour shift thread at the time of presentation in 2002 and their selection in 2004," the FIR states.
CBI's inquiry has also revealed that De La Rue applied for patent in India in the name of "a method of manufacturing a substrate having colour shift effect" only on June 28, 2004. The patent was publicised in March 2009 and it took another two years before the patent was granted to the company which claimed to have had it in 2004.
"Enquiry has revealed that the Exclusivity Agreement was signed by P K Biswas, Executive Director, RBI without verification of the patent claim of De La Rue. The contract agreement did not have any termination clause. Both RBI and SPMCIL on 17.04.2006 and 20.09.2007 respectively submitted (to the finance ministry) their reports regarding non-possession of patent by De La Rue for their colour shift thread but Arvind Mayaram never apprised the same to the Finance Minister," CBI has said in the FIR.
According to CBI, the contract agreement of De La Rue was regularly extended until December 31, 2012 despite the fact that it never had the patent for the exclusive security thread.
On May 10, 2013, it was brought to the notice of Arvind Mayaram, as secretary, economic affairs, that the contract agreement with De La Rue had expired on December 31, 2012 and therefore an extension cannot be granted legally.
However, Mayaram went ahead and approved an extension of another three years of an expired contract to De La Rue on June 23, 2013, the CBI has revealed.
"He also overruled the fact that extension cannot be granted without obtaining mandatory security clearance from Ministry of Home Affairs. Mayaram also did not take the approval from Finance Minister for this instance whereas, previous three extensions were approved by the Finance Minister," the FIR alleged.