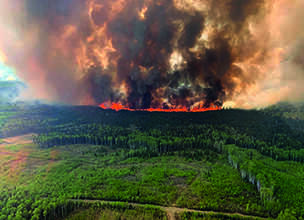 More than 12 million people are under a heat advisory in the Pacific Northwest, as temperatures through the weekend are expected to climb nearly 20 degrees higher than normal, with the extreme weather extending into
Canada
as the country contends with dozens of wildfires.
National Weather Service
forecasters said an abnormal area of high pressure will build a "heat dome" over the western US and Canada, acting like a lid over the atmosphere, bringing clear skies and allowing temperatures to rise.
"Temperatures in the Pacific Northwest will experience highs in the 80s and 90s, which will represent 20-30+ degreeanomalies," forecasters with the Weather Prediction Center said Saturday. "Many parts of the coastal Pacific Northwest will tie or break temperature records this weekend."
The
Seattle
region is forecast to reach a high of 87°F Saturday and Sunday. If the temperature reaches 90°F, it willbreak a May 17, 2008, record for the earliest 90-degree day of the year. Temperatures in the region are expected to be in the low to mid-80s throughout next week, forecasters said.
Several cooling centres opened throughout the Seattle area this weekend in preparation for the heat wave, according to the King County Regional Homelessness Authority.
While Portland, Oregon, has yet to open official cooling centers, local officials urged people to seek respite from the heat in local libraries, community pools or fountains. Alberta in Canada has declared a provincial state of emergency and has asked more than 29,000 people to evacuate their homes.