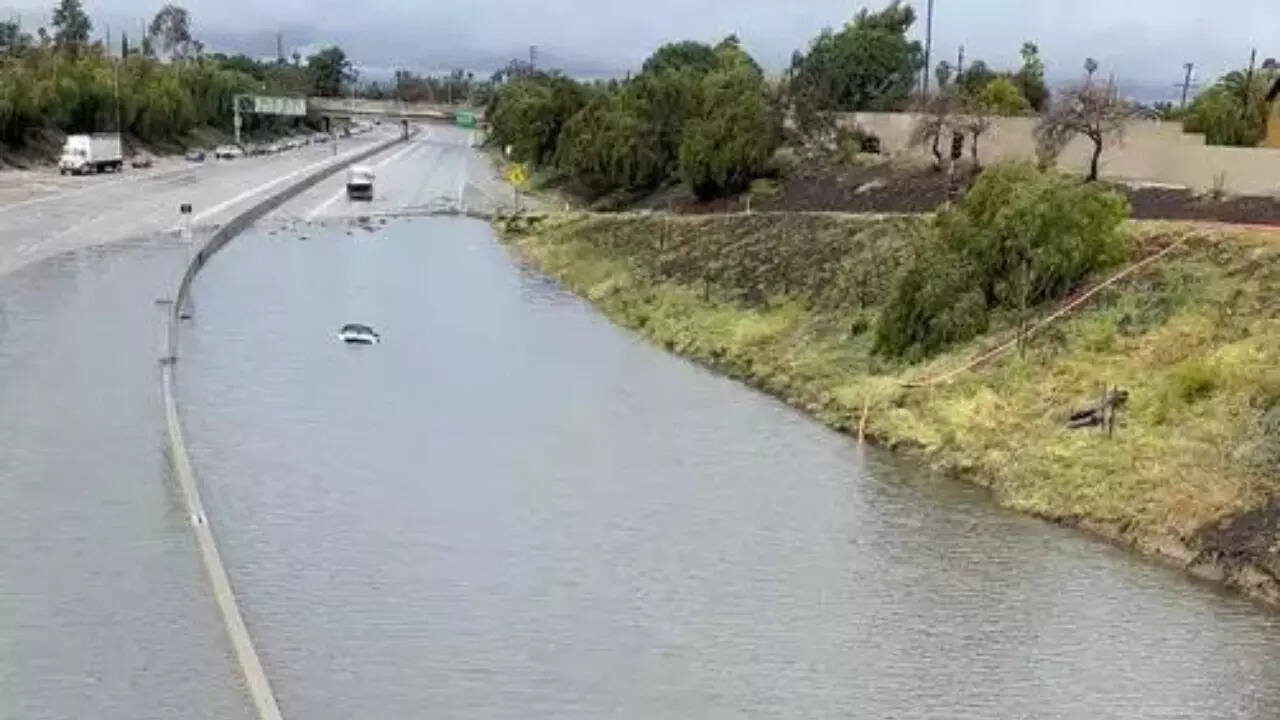 LOS ANGELES: Flood watch notices were posted across northern and central California for Thursday ahead of an atmospheric river storm expected to douse much of the state with heavy rain, including mountain areas still buried from a near-record snowfall.
The National Weather Service (NWS) issued excessive-rainfall and flood advisories for a wide region encompassing the metropolitan areas around San Francisco Bay and
Sacramento
, home to some 15 million people.
But smaller, waterfront communities along several major rivers and their tributaries also braced for the possibility of overflowing streams swollen by heavy showers and runoff of melting snow.
In Tulare County, Sheriff Mike Boudreaux issued an evacuation warning on Wednesday for homes and businesses along a stretch of the Kings River, which drains the Sierra Nevada mountain range, in advance of "this rain-on-snow event."
Elsewhere, the NWS issued "prepare now" alerts for residents along the Big Sur, Carmel, Salinas and Pajaro rivers.
Crews were scrambling until the last minute to shore up flood-weakened levees that had been breached along the Cosumnes River south of Sacramento earlier this year during a previous storm, the San Francisco Chronicle reported.
Intense downpours accompanied by high winds were forecast to sweep into California on Thursday night through Friday, carried by a dense stream of subtropical atmospheric moisture flowing in off the Pacific from Hawaii – a phenomena also called a "Pineapple Express."
In some areas, flood watches were to remain in effect through Sunday morning.
The relatively warm storm system will bring rain not only to low-lying expanses of northern and central California but to mid-elevation mountain areas still struggling this week to dig out from back-to-back blizzards that dumped more than 100 inches (2.5 meters) of snow in some places, forecasters said.
"Most of the flooding concerns are for the lower-lying areas susceptible to rapid river and stream rises," said William Churchill, a meteorologist for the NWS Weather Prediction Center. "It's really a combination of all this heavy rainfall coming and also rapidly melting snow."
Churchill said the melting snow would initially act as a sponge to soak up some of the excess rain, helping to slow the pace of the runoff and tamp down the potential for large debris flows and mudslides.
Higher-elevation mountain areas – above about 8,000 feet (2,400 meters) – were expected to get even more snow, or snow mixed with rain, posing the risk of widespread roof damage to older structures under the mounting weight of frozen precipitation, he said.
Where possible, mountain residents were urged to shovel off some of the snow that had accumulated on their roofs before the next storm arrived.
The looming deluge follows a three-week barrage of nine atmospheric river storms that struck California in late December through mid-January, triggering widespread flooding as well as hundreds of mudslides, rockfalls and sinkholes across the state.
At least 20 deaths were attributed to the earlier bout of storms, which also lashed coastal areas with gale-force winds and pounding surf, washing out seaside roads and docks and uprooting thousands of trees.
Experts say the growing frequency and intensity of such storms, punctuating extreme drought, are symptomatic of human-caused climate change and make it more difficult to manage California's precious water supplies while minimizing heightened risks of floods and wildfires.
Although potentially damaging, such storms have eased a historic four-year dry spell in California, replenishing some badly depleted reservoirs and the Sierra snowpack, a critical source of fresh water for the state.