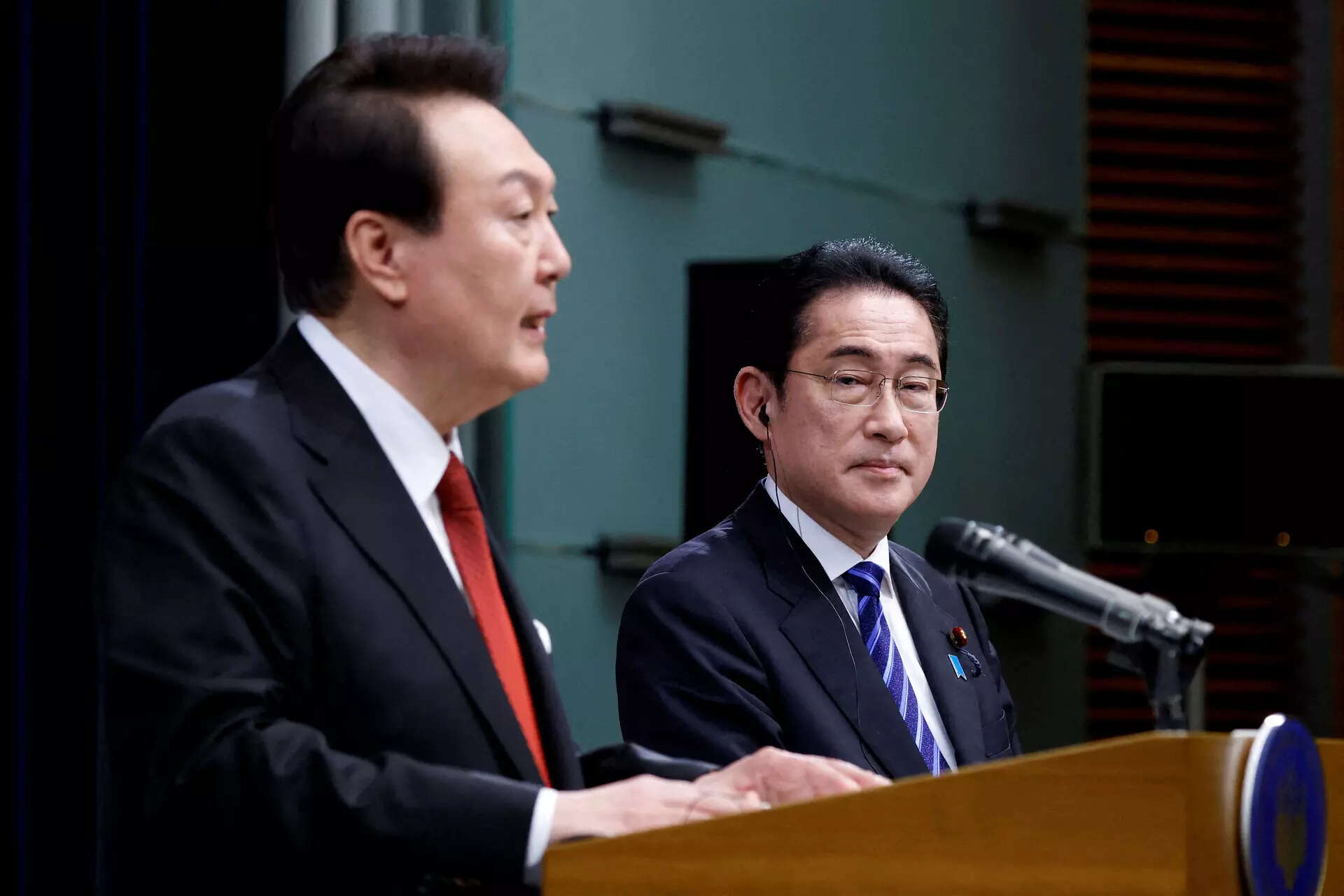 SEOUL: After discussions on security and technology, the leaders of South Korea and Japan plan to unwind over a drink that is traditionally poured in Korea to cement friendship.
South Korean President Yoon Suk Yeol is preparing to share a "bomb shot" with Japan's Prime Minister
Fumio Kishida
over a casual dinner on Sunday. The concoction, a combination of beer with South Korea's national spirit soju, is a mainstay in K-dramas and among colleagues and friends.
The meal is part of an official two-day summit in Seoul — the first in 12 years — meant to strengthen ties between the US allies. Seen as a chance to restore shuttle diplomacy, the visit takes place ahead of a trilateral meeting between the US, South Korea and Japan during the Group of Seven meeting in Hiroshima later this month.
The relaxed dinner at Yoon's presidential residence in Seoul will showcase Korean cuisine. Yoon intends to serve charcoal-grilled meat, according to people familiar with the event. Korean rice wine, called Cheongju, will be offered throughout the meal, and high-level officials from Yoon's ruling People Power Party suggest that bomb shots are "most likely" to follow.
The last such meeting was in October 2011, when then-Japanese Prime Minister Yoshihiko Noda visited South Korea for a summit with President Lee Myung-bak. Back then, marinated beef short ribs, soju and rice wine were on the menu at a restaurant in the ritzy Gangnam district.
The bilateral summit is part of a broader push to restore ties harmed by disputes in recent years. The friction caused headaches for the White House, which wants the two countries to form a united front against North Korea.
The political rift is driven by questions of fair compensation after Japan forced Koreans to labor in Japanese mines and factories during 1910-1945 colonial rule over the peninsula. The relationship worsened in 2019 when Japan removed South Korea from its preferential trading list, leading to reciprocal action.
Last month, South Korea added Japan back to its "white list" of trading partners, and Japan later announced it would do the same.
Earlier today, North Korea's official news agency renewed attacks on Yoon for his pro-US policies, calling them radical and excessive after the leader's recent trip to Washington.