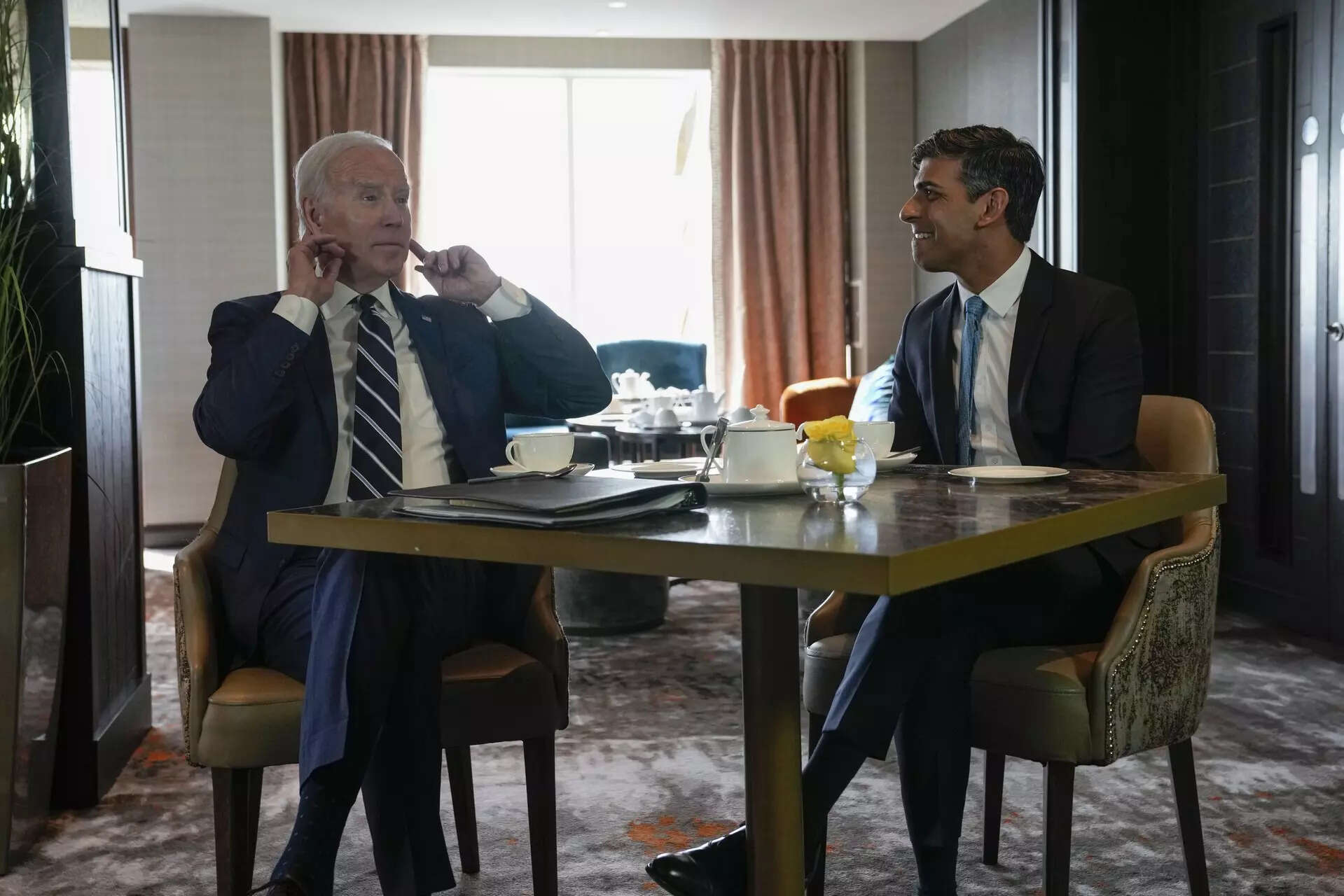 DUBLIN: The US President Joe
Biden
on Wednesday began a nostalgia-filled tour of the Republic of Ireland, jetting in from Northern
Ireland
where he pushed for an end to political paralysis in the British province.
Biden emerged from Air Force One at Dublin airport to driving wind and rain, and was greeted by the Irish Taoiseach (prime minister)
Leo Varadkar
and a sea of black umbrellas. The president also met Prime Minister Rishi Sunak, who said the UK's relationship with the United States was "in great shape".
The 80-year-old president calls Ireland "part of my soul", and his visit includes trips to the hometowns of his 19th-century ancestors.
On the first such trip out of Dublin, to Carlingford Castle near Northern Ireland, Biden said: "It feels wonderful! Feels like I'm coming home."
He went on to visit an ice cream shop and a pub in the town of Dundalk near Carlingford Castle, where he staged a walkabout.
Distant cousins from his mother's Irish side of the family were present in Dundalk's Windsor Bar, where Biden said emigres like their forebears had brought "courage and hope" to America.
"All together we have to continue working towards a future that's of greater dignity, as we face darkness," the Democrat said, ahead of a potential election rematch next year against Republican Donald Trump.
Biden will also meet Irish head of state
Michael Higgins
and address a joint sitting of both houses of the Oireachtas — the Irish parliament — on Thursday before heading home late Friday.
Despite the sentimental nature of his trip, Biden was keen to underscore its seriousness.
The priority, he said, was "to keep the peace" in Northern Ireland, 25 years after a landmark peace agreement that ended three decades of deadly sectarian violence over British rule.
He used a speech at a new campus of Ulster University in Belfast earlier on Wednesday to promote the benefits of enduring peace and investment, but faced heated criticism from pro-UK hardliners.
"I hope the (Northern Ireland) Executive and Assembly will soon be restored," Biden said, urging feuding leaders to restore the power-sharing government which has been suspended since February last year.
Biden touted the "unlimited possibilities" for investment and growth offered in Northern Ireland, 25 years on from the Belfast/Good Friday Agreement.
But senior figures in the pro-UK Democratic Unionist Party (DUP), which is under pressure to resume local power-sharing, were strikingly undiplomatic about the president.
Sammy Wilson, a DUP member of the UK parliament in Westminster, branded Biden "anti-British", accusing the second Catholic US president of having "made his antipathy towards Protestants in particular very well known".
DUP leader Jeffrey Donaldson, who was among local leaders to greet Biden, said the visit "doesn't change the political dynamic in Northern Ireland".
Other senior party figures said Biden's love affair with the Republic made him unfit to comment about affairs north of the border.
Power-sharing government is a key plank of the 1998 peace accord, but it collapsed 14 months ago over the DUP's opposition to post-Brexit trade arrangements in Northern Ireland.
Despite the UK and the European Union agreeing to overhaul the trading rules earlier this year, the DUP is yet to back them, and allow the restoration of Belfast's Stormont legislature.
– Security fears – The White House hit back at the claims that Biden is "anti-British".
"The president has been very actively engaged throughout his career, dating back to when he was a senator, in the peace process in Northern Ireland," said Amanda Sloat, National Security Council senior director for Europe.
Sectarian violence remains a concern north of the border.
On Monday, masked youths pelted police vehicles with petrol bombs during an illegal march by hardline nationalists in Londonderry, which is also known as Derry.
Police in Northern Ireland on Tuesday said that four suspected pipe bombs had been retrieved from a cemetery in the Creggan area of the city.
Biden brushed off any security concerns and saw up close how much redevelopment has transformed Belfast since 1998.
"The dividends of peace are all around us," he said at the new university campus, whose glass frontage would have been dangerously impractical in the days when the city centre was constantly being bombed by anti-British militants.