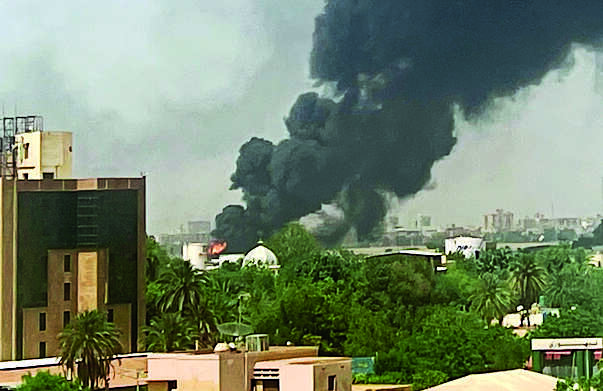 Khartoum:
Sudan
's army launched air strikes on a rival paramilitary force's base near the capital in a bid to reassert control over the chaotic country on Sunday after a power struggle erupted into clashes that killed 56 civilians and dozens of fighters.
The fighting broke out on Saturday between army units loyal to General Abdel Fattah al-Burhan, and the Rapid Support Forces (RSF), led by General Mohamed Hamdan Dagalo, known as Hemedti. It was the first such outbreak since both joined forces to oust president Omar Hassan al-Bashir in 2019.
International powers – the US, China, Russia, Egypt, Saudi Arabia, the United Nations, European Union and African Union – have appealed for an immediate end to the hostilities. Efforts by neighbours and regional bodies to end the violence intensified on Sunday. That included an offer by Egypt and South Sudan to mediate between the fighting parties, according to a statement by the Egyptian presidency.
At the end of a day of heavy fighting, the army struck a base belonging to the RSF in the city of Omdurman, which adjoins the capital Khartoum, witnesses said late on Saturday. Both the military and the RSF claimed they had control of Sudan's airport and other key installations in Khartoum, where fighting raged overnight. The two rivals have been competing for power as political factions negotiate forming a transitional government after a 2021 military coup.
In the early hours of Sunday, residents reported hearing gunfire and explosions from heavy artillery through the night. Al Arabiya TV broadcast footage of thick plume of smoke rising over some Khartoum districts.
Tagreed Abdin, an architect in Khartoum, said the power was out and people were trying to conserve phone batteries. "We can hear air strikes, shelling, gunfire," she said.
Sudan's MTN telecommunications company has blocked internet services on the orders of the government telecommunications regulator. Several groups of people reported being trapped near the presidential palace and military headquarters. reuters