MUMBAI: After perpetrators in two midair drunk-urination cases within a fortnight on Air India flights were allowed to leave on landing, the airline finally issued a circular instructing its crew to adhere to the laid-down norms on handling such situations. Air India crew should report any improper behaviour on aircraft to regulatory authorities on landing even if the matter appears to have been settled, said CEO Campbell Wilson in an internal mail to its staff.
"This week has, regrettably, been dominated by media headlines of which you are no doubt familiar. The repulsion felt by the affected passenger is totally understandable and we share her distress," said the CEO. "Whilst the story is more complicated than has been reported, there are clearly some lessons we can and must learn. Most important is that, if an incident on our aircraft involves improper behaviour of such magnitude, we must report it to authorities at the earliest opportunity, even if we genuinely believe that the matter has been settled between the parties involved," he said.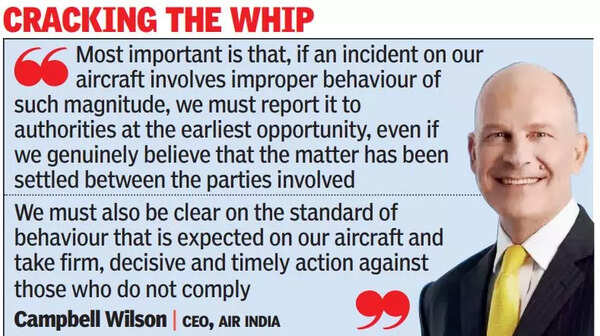 The parameter is to be the same for "unruly" passengers. "We must also be clear on the standard of behaviour that is expected on our aircraft and take firm, decisive and timely action against those who do not comply," said the CEO. Under the 2017 Civil Aviation Requirements (CAR) for handling unruly passenger, the airline crew should inform security agencies and ground staff for appropriate action on landing. An FIR should also be filed. Another shocking incident on Air India flight: 'Drunk' male passenger allegedly 'urinated' on blanket of a female passenger
Wilson further said that the relevant aspects of the safety and emergency procedures manual must be reinforced in recurrent training and he asked "each of you to reflect on what you would do if faced with such situations. As in any other area, knowledge and preparation underpin confidence and outcome. " Following the letter, AI's operations department issued a note to all pilots and crew members reiterating the message. "Follow laid down procedure of handing over the disruptive guest to regulatory authorities on arrivals," said the note sent by Capt R S Sandhu.
On November 26, a drunk flyer urinated on a septuagenarian woman passenger while both were travelling in the business class cabin of a New York-Delhi flight. On landing, the crew did not hand him over to the law enforcement authorities. The airline claims its crew did not lodge a complaint as the woman had rescinded on an initial request for action after the two parties "appeared" to have sorted out the issue. Shankar Mishra, who urinated on a female passenger in an Air India flight, identified
In the December 6 incident on AI Paris-Delhi flight 142, the drunk passenger relieved himself on a vacant seat and blanket of a fellow passenger, when she was in the toilet. The offender was isolated and handed over to the CISF at IGI. "As the victim and the accused reached an understanding, CISF allowed the accused to leave after he tendered a written apology. In deference to the victim's wishes, Air India did not lodge a police report," the airline stated.