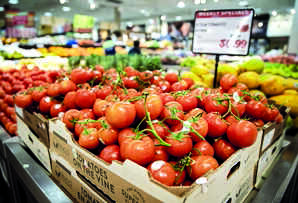 A dry spell is wilting crops and delaying plantings in some of Europe's top produce growers, risking a further run-up in
food inflation
. About 60% of the Spanish countryside is gripped by drought, and conditions are worsening for farmers in Italy and Portugal. It follows an exceptionally dry, warm winter in southern and western Europe, curbing the availability of water for agriculture use later in the year.
Soaking March and April rains have bolstered the rest of the European Union, with the bloc forecasting grain output to rise 8% from last year. Still, southern Europe is a heavyweight in fruit and vegetables, and the bad weather follows a drought that withered rice paddies and olive groves last year.
"Sowing in the Po River area traditionally starts in late February or early March, but right now the soil is too dry," Massimiliano Giansanti, head of Italian farm group Confagricoltura, said in an interview in Rome. "The more we wait, though, the less we will get in terms of crops."
Upward pressure on food prices in Europe remains firmly in place, even as headline inflation slows. Heat and dryness withered corn crops on much of the continent last summer and drained water levels on the Po River – Italy's largest – to a 70-year low. This year's drought could hit spring harvests of lucrative produce such as tomatoes and fruit – an industry with $22 billion (₹20 billion) in annual sales and almost ₹8 billion in exports, Giansanti said. Soy and corn output also will be at risk, boosting expenses for meat and poultry producers.
In Spain, there are irreversible losses on more than 3.5 million hectares (8.6 million acres) of rain-fed grain crops, according to a local farmers organization. Some nut orchards and vineyards are struggling to sprout, and a lack of flowers is preventing bees from making honey.
Italy is trying to act before the summer heat sets in. Prime Minister Giorgia Meloni's government said it will appoint a water emergency czar to speed up infrastructure works and fix leaking pipes across the country. But the post remains unfilled amid political infighting. Rapidly changing temperatures and scarce water have altered product availability, and prices for tomatoes – a staple in local diets – are up 30% versus 2022, said Fabio Massimo Pallottini, president of wholesale market operators Italmercati.
Prospects are better in other major crop growers: Nearly all wheat and barley fields in France are in good shape early in the season, although groundwater levels remain low. Much of Germany and Poland had double their normal rainfall in the past 30 days.